The Graduate Outcomes Survey tells us how UWE Bristol graduates' careers are progressing once they have left the University. The survey is managed by the Higher Education Statistics Agency (HESA).
Why you should take part
The survey aims to find out your activities and views. The results shape our courses and help future students make choices about their education.
The survey allows policy makers, charities, journalists and researchers to understand the higher education sector and the state of the graduate labour market.
The results of the survey attract graduate recruiters and impact student recruitment through their contribution towards league table rankings.
What you need to do
Make sure we have the right contact details for you. HESA will ask us to provide them with contact details for you so that they can get in touch about the survey. Your email is most important, but the right phone numbers and an address are also useful.
Please update your contact details by following the correct link:
Current students: update your details in MYUWE.
Graduands and graduates who've left UWE Bristol: update your details.
When the survey happens
The census date for the survey will be 15 months after your graduation.
What you'll be asked
You'll be asked a number of questions relating to the activities you're undertaking 15 months after graduation. These include whether you're in employment, self-employment, developing your portfolio and/or undertaking further study.
How your information will be used
HESA have published a student collection notice to provide guidance about how your information will be used.
Find out more
For more details about the survey, please visit Graduate Outcomes.
Support available for UWE Bristol alumni
If you need support to find a new job, want to progress in your role or launch a new business we can help. Explore what's on offer for alumni career and business support.
You may also be interested in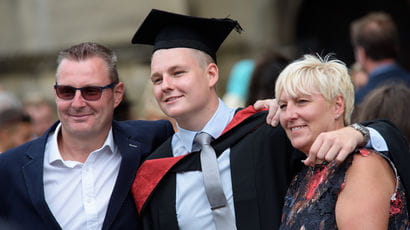 To make your final few months with us as easy as possible we've put together a list of things you need to do before you leave, as well as some useful information to help you prepare for life after university.