Enabling independent living with assistive robotics 
Intelligent robots, integrated with smart home sensors and healthcare databases, can provide the ability to realise a range of assistive care solutions to support independent living for an ageing population.
Robotics-based technologies are increasingly being recognised as important tools in helping older people with ageing-related disabilities and long-term conditions improve their quality of life and live independently for longer.
Socially assistive robots, particularly those that can navigate around a person's home, working in conjunction with a smart home sensing system, can deliver reminders, prompts and guidance for a range of activities.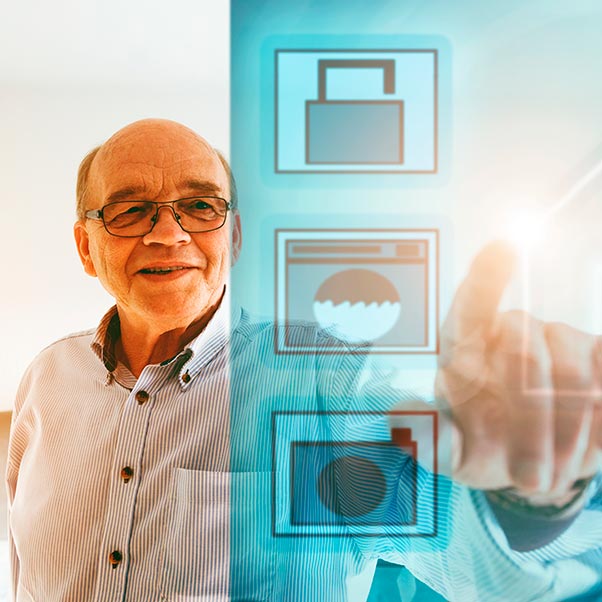 "The ability for a robot to take proactive initiative in response to specific situations anywhere in the home offers several advantages over a static tele-care system in terms of increased availability, awareness and access."
Professor Praminda Caleb-Solly Professor of Assistive Robotics and Intelligent Health Technologies
About this research
Praminda and the team at Bristol Robotics Laboratory (BRL) are leading the way in the design of assistive robots. Their flagship projects include I-DRESS and CHIRON, both developing robotic devices to offer physical assistance.
This research is being further progressed as part of the Assuring Autonomy International Programme, where the BRL's role is to develop safety and regulatory standards of close-proximate human-robot interaction in an unstructured environment with people with a range of sensory, cognitive and physical impairments. It's also being progressed as part of the H2020 programme METRICS, defining the benchmarks and evaluation protocols for emerging healthcare robotics technologies.
Connected assistive robotics at the Bristol Robotics Laboratory
Now more than ever there is increased consumer expectations for an Internet of Things (IoT) enabled home, driven by smart home automation systems. The team at UWE Bristol believe that integrating assistive robots, which add value by providing a physical embodied form for these emerging platforms, is a natural next step in developing a connected assistive ecosystem.
Praminda commented "Drawing on contextual information from activity sensors within the home, and information about the user's current physical and emotional state, assistive robots can create value through provision of interventions that are socially intelligent in regards to how, and what advice and support is provided, and adapting as needs change".
Putting the user first
The work in the BRL involves understanding how people and robots can interact intuitively, designing and testing robots that will be acceptable and enjoyable to use, ensuring that the technology is developed being mindful of ethical and cultural issues.
Using a person-centred approach helps the team to understand people's context of use and perspectives of assistive technologies. Praminda commented "By putting the user first, we can investigate potential barriers and ensure effectiveness and efficiency. We aim to use design approaches that are inclusive, involving older people, their formal and informal carers, healthcare and social care and service providers, and clinicians".
The BRL has also been working with Extracare Charitable Trust in a Knowledge Transfer Partnership trialling and co-designing assistive technology with older adults and carers. This project provides evidence of the impact of assistive technologies on supporting people as they age. Working with care providers ensures that the research is informed by best practice and experience in health and social care.
Contribution to the UN 2030 sustainable development goals
UWE Bristol is proud to align our research to the UN sustainable development goals. The above research aligns with the following goals:
Breaking research boundaries
We're tackling the big issues of today and tomorrow head on. This is big, brave thinking for a better future.  It's research done well. Research with the power to transform lives, transform the future.  
Breaking research boundaries
You may also be interested in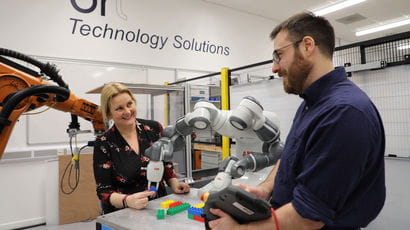 The College of Arts, Technology and Environment (CATE) has a well-established and continuously developing research environment.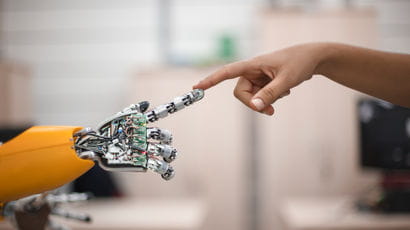 Bristol Robotics Laboratory (BRL) is a nationally – and internationally – recognised as a centre of excellence for advanced robotics research.