Responsible robots: An ethical approach to intelligent systems
From helping to build public trust in Artificial Intelligence (AI), to ensuring ethics are factored into the digital health technologies of the future, UWE Bristol is leading the charge for ethical robots.
A pioneering roboethicist, Alan Winfield, Professor of Robot Ethics, has steered national and international debates and developments around the principles, standards, design and application of robots.
His work has earned him several awards, including the Royal Academy of Engineering Rooke Medal in 2010, in recognition of research dating back to 2006 exploring the ethical impact of robotics in society.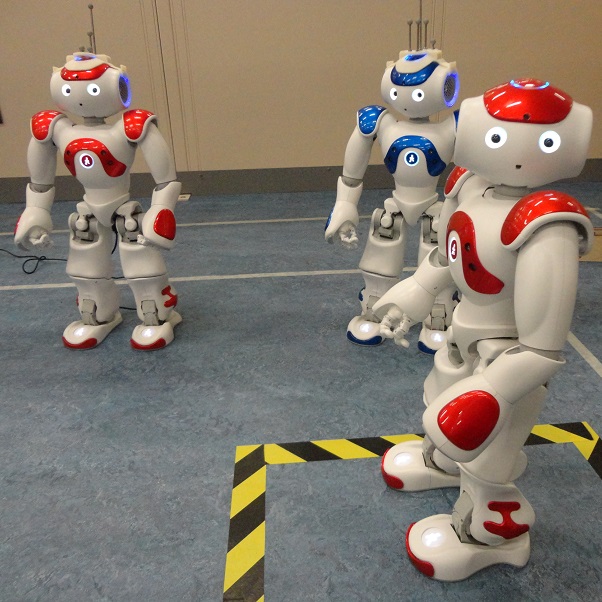 Ethical standards in robotics
The foundational principles of robotics that came out of that work paved the way for the world's first published ethical standard in robotics: British Standard BS8611 – a guide to the ethical design of robots and robotic systems.
In turn this led to Professor Winfield playing a pivotal role in the global ethics initiative led by the Institute of Electrical and Electronics Engineers (IEEE), a global community of innovators committed to the advancement of technology for the benefit of humanity.
Within the initiative Professor Winfield has led the development of both new general ethical principles for autonomous and intelligence systems, and new IEEE Standard 7001-2021 on Transparency of Autonomous Systems.
Policy, practice and public opinion
In collaboration with Professor Marina Jirotka from the University of Oxford, Professor Winfield is developing an "ethical black box" for robots and AI, akin to an aircraft flight data recorder, that logs robot behaviour. This work is part of a five-year project to devise and test frameworks for ethical governance and responsible robotics for companies and organisations developing and operating social robots.
Working with Professor Michael Fisher from the University of Liverpool, Professor Winfield devised new approaches for validating robot systems and robot safety by using computer models to enable robots to predict the consequences of their actions. Associated experimental studies demonstrated the world's first transparent and verifiable ethical robot. These findings were included in a special issue on machine ethics published by the IEEE, representing the most comprehensive survey in practical machine ethics at the time.
UWE Bristol's research has gone on to inform organisational standards used by the robotics industry. This includes best practice principles used by the UNI Global Union, an association of more than 650 unions in 140 countries with over 20 million members.
Public perceptions around robotic ethics have been significantly influenced by Professor Winfield's contributions to hundreds of public lectures and panel debates, including the 2018 annual Institute of Physics lecture alongside Dame Wendy Hall and Jim Al-Khalili, and an appearance on the BBC's 'The Infinite Monkey Cage' in 2016 with Professor Brian Cox and Robin Ince.
Multiple policy debates in the UK Government have benefited from Professor Winfield's expertise, including a Foreign Office briefing on the risk of robotics and AI, round tables with the UK Chief Scientific Advisor, and inquiries led by select committees in the House of Commons and the House of Lords.
 Contribution to the UN 2030 sustainable development goals
UWE Bristol is proud to align our research to the UN sustainable development goals. The above research aligns with the following goals:
Breaking research boundaries
We're tackling the big issues of today and tomorrow head on. This is big, brave thinking for a better future.  It's research done well. Research with the power to transform lives, transform the future.  
Breaking research boundaries