Promoting children's literature
UWE Bristol research has had a major influence on the teaching, reading and writing of children's literature, at home and abroad. Benefits include better practice in schools, specialist writing for reluctant readers, and the bringing of children's literature to public and critical attention.
Impact of teaching methods on reading habits
The research and publishing of Dr Catherine Butler, formerly of UWE Bristol's Faculty of Arts, Creative Industries and Education (now known as the College of Arts, Technology and Environment), has had a significant impact on the teaching of literature to children.
This impact arose from an extensive EU-funded project, the Learning and Teaching of Children's Literature in Europe led by Butler. This project worked directly with thousands of pupils, hundreds of teachers and scores of schools in the UK, Spain, Iceland and Turkey.
The project identified variations in children's reading habits and preferences according to nationality and socio-economic group. It then showed how different teaching methods across the four countries, as well as attitudes to children's literature, affected the amount and type of literature read.
Sharing best practice
Teachers in each participating country benefited hugely because the project organised events to share the research findings and their applications. These included lesson plans to encourage best practice, and learning materials to promote understanding of different European cultures.
The findings also influenced public education policy, for example in Turkey following Butler's address to the Turkish Board of Education.
Project funders EACEA (Education, Audiovisual and Culture Executive Agency) called The Learning and Teaching of Children's Literature in Europe "an excellent project with important and useful products which really can have a positive impact directly at school level for both teachers and children." As one teacher confirmed, "as an experienced teacher, this research was very useful and gave me lots of ideas to develop in school."
The Learning and Teaching of Children's Literature in Europe website provides further valuable resources for teachers and policy makers, not least the downloadable Continuing Professional Development packs designed to spread best practice in schools.
Butler's more recent work continues to marry theory and good teaching practice within the UK and the rest of Europe. Her book, Reading History in Children's Books, has contributed to current debates on multidisciplinary history teaching in schools, with impacts on classroom practice and the National Curriculum.
Promoting children's literature
Dr Butler is a passionate advocate for children's literature in the UK. She has been on the selection panel for the Children's Laureate, a significant appointment for children's literature within the UK. As well as national radio appearances and frequent visits to schools as guest author, she writes entries for An Awfully Big Blog Adventure, a community blog maintained by professional children's writers. Award-winning children's writer Meg Rosoff called Butler's entries "works of genius." Her work has also brought critical attention to important authors. For example, she co-organised a two-day conference devoted to children's author Diana Wynne Jones, attracting speakers from 14 countries and four continents, and an audience of both fans and academics.
An inspiration
Butler is herself a writer of children's fiction. She has produced six full length novels for children and teenagers and has effectively promoted literacy, not least with her two popular volumes of fiction designed for reluctant readers.
Butler's recent contribution to the Work Forward programme, a course for young adults aged 16 - 18 with special learning needs at City of Bristol College, has, according to the Curriculum Leader, "had a profound and lasting impact on the development of these young learners. Butler's work with the students was "informative, perfectly pitched to the group and, for many, completely inspirational." In recognition of this, the College created the 'Catherine Butler Prize for Story Writing'.
Contribution to the UN 2030 sustainable development goals
UWE Bristol is proud to align our research to the UN sustainable development goals. The above research aligns with the following goals:
Breaking research boundaries
We're tackling the big issues of today and tomorrow head on. This is big, brave thinking for a better future.  It's research done well. Research with the power to transform lives, transform the future.  
Breaking research boundaries
You may also be interested in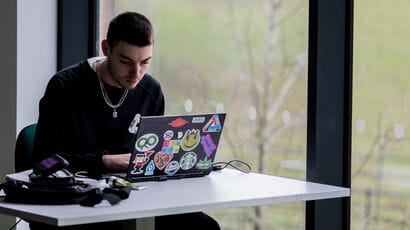 Research in the School of Arts maintains our established reputation, nationally and internationally, across a range of disciplines.