Industry benefits from 3D printing of ceramics
Ceramic tableware companies have approached UWE Bristol to help them improve their industrial processes, using UWE Bristol's innovative ceramic 3D printing material.
Research yields new technique
Researchers at UWE Bristol's Centre for Print Research have developed a patented ceramic material that can be used in digital 3D printers. The team, led by Professor Stephen Hoskins, created a technique that prints ceramic artefacts that can be fired in a kiln and glazed, in the same way as those produced using conventional techniques.
It is possible to finely control the material's tactile qualities and other physical properties. The research also produced a new understanding of processes through the whole of the workflow involved, such as the parameters used during firing. Taken together, this means that the team can adapt the technique to meet a variety of needs – whether of artists, designers or industry.
Take-up across the industry
This caught the attention of the ceramics industry. Denby Pottery, a major manufacturer of tableware, was interested in using the material to produce prototypes of proposed new products. Previously, this had only been possible using materials such as plaster.
Because the UWE Bristol printable ceramic could be fired and glazed, it was possible to make prototypes that had the same look and feel as that expected of the finished product, giving a much better impression of what it would be like – before the considerable investment required to scale it up to full production.
From 2011, UWE Bristol collaborated with Denby to demonstrate that this was commercially viable, helping to convince them that there is a clear future for 3D-printed ceramics.
"Here is a university that has already made ceramic printing a reality," says their Senior Designer. "We can certainly replicate things… we are really pleased with the way it is heading."
Denby is not alone. Other major UK tableware manufacturers – Dudson's, Steelite and Wedgewood – have also approached the UWE Bristol team. As well as 3D-printing of product prototypes, they were interested in using the technique to produce 'setters'. These are special supports that help keep ceramic products in shape while they are being fired in the kiln.
The new ceramic material itself has been licensed to US company Viridis.
Innovations from UWE Bristol are therefore adding directly to industrial competitiveness in the UK and beyond.
Contribution to the UN 2030 sustainable development goals
UWE Bristol is proud to align our research to the UN sustainable development goals. The above research aligns with the following goals:
Breaking research boundaries
We're tackling the big issues of today and tomorrow head on. This is big, brave thinking for a better future.  It's research done well. Research with the power to transform lives, transform the future.  
Breaking research boundaries
You may also be interested in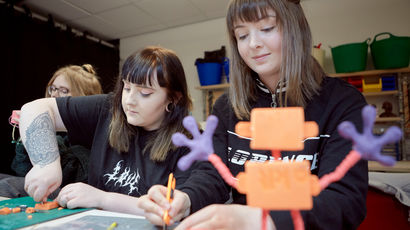 Research in the School of Arts maintains our established reputation, nationally and internationally, across a range of disciplines.