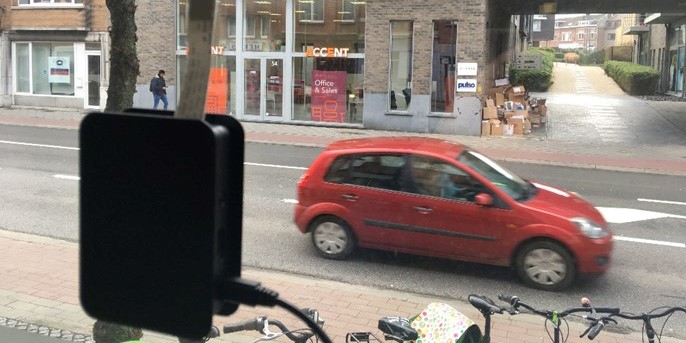 Residents will fit sensor devices to windows in their homes to collect traffic data for a new citizen-led transport study covering five European cities.
The project involving academics at the University of the West of England (UWE Bristol) will see 1,500 residents install automated traffic counting sensors in their homes that can identify the number and speeds of vehicles, cyclists and pedestrians.
Data will then be used to formulate informed solutions to tackle a variety of road transport challenges, with the aim of improving residents' quality of life.
UWE Bristol is one of seven high-level participants in the Horizon 2020 funded, Citizens Observing UrbaN Transport (WeCount) project. It was established to empower citizens in European cities to take a leading role in the production of the data, evidence and knowledge that is generated around mobility in their own communities.
Air quality and traffic congestion are among the main causes of poor urban living and have sparked rising concerns about the negative impact that transport has on people's health and well-being in urban areas. According to the European Environment Agency, air pollution caused 400,000 premature European deaths in 2016.
As several European cities embark on bold action to improve local transport and promote the use of alternative and clean modes of transport, citizens are now mobilising to have their voices heard and to actively participate in local transport policy development.
Madrid, Ljubljana, Dublin, Cardiff and Leuven are coming together to mobilise 1,500 citizens throughout 2020 by following participatory citizen science methods to co-create road traffic counting sensors based on the popular Telraam experience in Flanders, Belgium.
Crowd-sourcing methods provide cost-effective data for local authorities at a far greater temporal and spatial scale than what would typically be possible in classic traffic counting campaigns and will therefore open up new opportunities for transportation policymaking and research, say the researchers involved in the project.
Professor Enda Hayes, of UWE Bristol's Air Quality Management Resource Centre, said: "Engaging with citizens to help us understand local transport and the built environment is essential to assess and mitigate the impacts of air pollution and the wider determinants of public health.
"The WeCount project, which brings together UWE Bristol staff from the Air Quality Management Resource Centre and the Science Communication Unit, is the perfect vehicle to not only generate data but also promote and support citizen advocacy to work towards cleaner and healthier cities."
Kris Vanherle, from Transport & Mobility Leuven, and project coordinator, said: "By putting citizens at the heart of the innovation process, WeCount aims to break down technological and societal silos, and holds the high hopes to inspire citizens to champion a new perspective on road transport."
The seven knowledge partners involved in the WeCount project include SMEs, academic institutions and non-profit organisations. UWE Bristol is participating alongside Transport & Mobility Leuven, Ideas for Change, University College Dublin, University of Ljubljana, Polis and Mobiel 21.