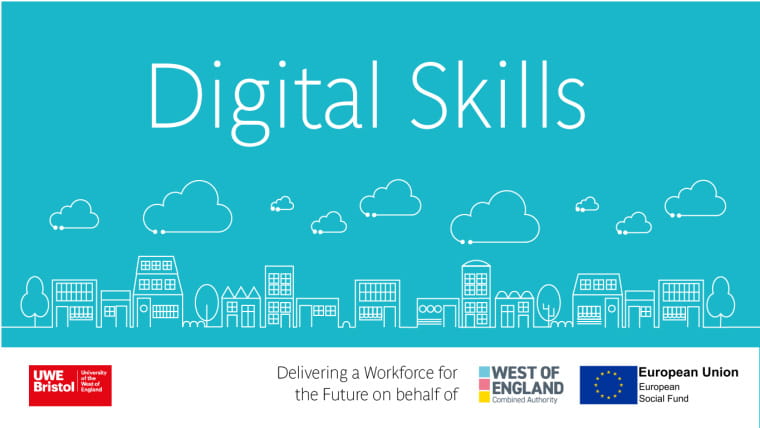 As part of the West of England Combined Authority's Workforce for the Future Programme, UWE Bristol has launched 'Digital Skills: Workforce for the Future', offering free support to SMEs looking to improve business productivity and sustainability by enhancing the digital skills and capabilities of their workforce.
Working with the Combined Authority's Growth Hub, the University will deliver this support to SMEs from any industry that has a business presence in the West of England (Bath & North East Somerset, Bristol, North Somerset and South Gloucestershire).
Tracey John, Director of Research, Business and Innovation at UWE Bristol and project sponsor said: "We are excited to be able to offer SMEs in the region more support, this time in the form of digital skills. Regardless of industry, digital skills are more and more crucial to the success of any business. Our expert team will work with you to identify skills gaps and then offer bespoke training in order for you to fill those gaps."
SMEs are encouraged to register their interest in the scheme, and they will then be contacted by expert advisers who visit their business to ascertain what digital skills they might benefit from. During their assessment, the advisers analyse business, operational and digital needs and compile a report and action plan based on this assessment. They may also assess employees to identify any digital skills gaps.
Based on their assessment in these areas, they then develop a structured learning plan catered to the business's needs. This can include short, online courses for staff and even in-depth leadership programmes, as well as accredited learning and training on digital futureproofing. Throughout the process, SMEs have access to targeted skills libraries, a digital talent recruitment pool and a digital business network.
Registered SMEs will also be able to apply for digital consultant support to enable significant digital skills development. These consultants will work closely with the SME and its employees to enhance operations, support technology adoption, or workforce training and upskilling. Consultant support can be applied for between 2-12 weeks in length, dependant on the needs identified.
Some of the areas covered as part of this programme include:
Digital marketing, website design, app design and creation
Digital disruption, leadership and change
Identifying emerging technologies and benefits to your business
Cyber Security
AI and Machine Learning
Robotics and Smart Factories
Cloud computing
Data management, CRM systems and analytics
Coding and programming
For more information on the Digital Skills: Workforce for the Future programme and to register your interest, please see the Workforce for the Future Information Pack (PDF).
You can also register your details and a member of the team will call you back.
As part of the Workforce for the Future programme, you will also have access to the full breadth of regional business support brought together and accessed via the West of England Growth Hub.
For further information on the full Workforce for the Future programme and to register for support, please contact the Growth Hub. The Growth Hub is the West of England Combined Authority's dedicated business support service.
The scheme runs until early 2023.