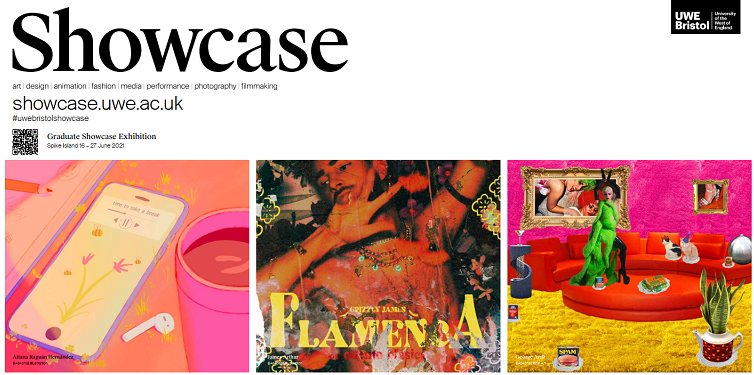 The work of this year's graduates from UWE Bristol's creative arts programmes is being celebrated and shared with the public in an engaging series of online and in-person events taking place this summer.
More than 400 students from 25 different creative programmes across art, design, animation, fashion, media, performance, photography and filmmaking are graduating from UWE Bristol this year with the campaign spotlighting their finest creative works across the city of Bristol and beyond.
A Graduate Showcase Exhibition featuring prints from graduates and 2020 alumni will take place at Spike Island, Bristol, on selected dates from 16-27 June. The exhibition is free and open to the public although booking is essential. To compliment the Spike Exhibition, a showreel featuring moving-image work will be displayed at Arnolfini from 25 June to 4 July, booking is available via Arnolfini website. Graduates' work will also be visible across the streets of Bristol as part of a city-wide poster campaign that will run for four weeks starting this month.
Alongside these physical events is UWE Bristol's Showcase 2021; a digital platform displaying the works of hundreds of recent graduates. Built in collaboration with Rhombus Studio, the site offers graduates the opportunity to share their practice with a global audience and features a range of visual and moving image artworks including photography, animation and film.
Head of School of Art and Design at UWE Bristol, Jacqueline Butler, said: ''We are delighted to share and celebrate the achievements of our 2021 graduates who have continued to produce impressive and inspiring work during a very challenging time for the UK and the world. Our planned activities and digital Showcase are wonderful opportunities for the public to engage with and enjoy the incredible talent of Bristol's emerging artists while also helping our resilient graduates and recent alumni through the early stages of their professional careers.''
It has been a bumper year for the creative arts programmes at UWE Bristol with recent graduates having won a multitude of awards and accolades across a range of disciplines. Some of the many highlights include:
First place positions at the Royal Society of Arts Student Awards (BA Graphic Design)
Awards for Best cinematography, Overall Film, Dreams Brief and McVitie's Brief in the NAHEMI Kodak Student Film Awards (BA Filmmaking)
Shortlisted for RTS Student Television Awards (MA Wildlife Filmmaking and BA Animation)
Finalists in Graduate Fashion Foundation Awards (BA Fashion Communication and BA Fashion Textiles)
Shortlisted for the Palm Photo Prize (MA Photography)
A commission by BBC New Creatives (BA Fine Art)
Best Student Feature at the Charles Parker Prize (MA Journalism)
Best Climate Emergency Film at the Arts and Humanities Research Council Awards (PhD Research)
MA Photography graduate Billy Barraclough was recently selected for the FUTURES Photography talent programme by the British Journal of Photography and is one of the graduates featuring in this year's poster campaign and digital Showcase. He said: ''Having my work shown on posters over Bristol is super exciting! I can't wait to see my work printed huge and to be seen by so many people.
"I learnt so much during my degree around the process of engaging in and then disseminating a critically considered and well-researched body of work. But beyond that, there was tonnes I learnt about photo-history, photo-theory, technical processes, the photography industry, and the various roles that exist within it. As I look to the future, I hope to continue working on longer-form projects that I can show in exhibitions and publications.''