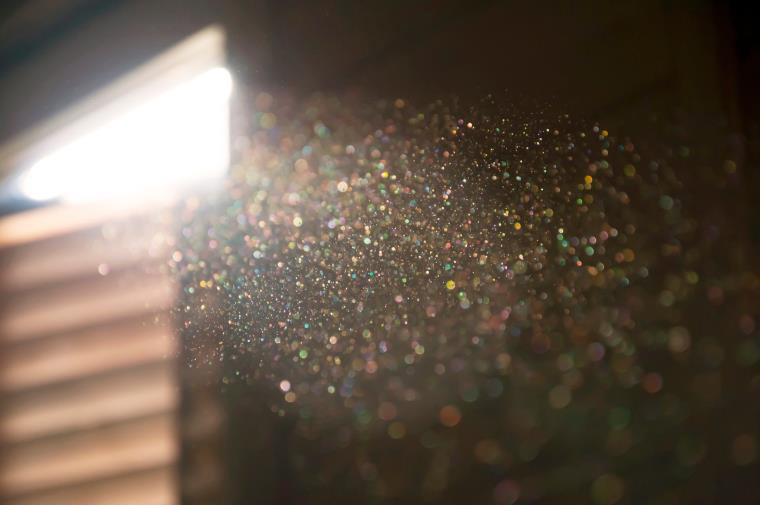 Researchers from UWE Bristol's Air Quality Management Resource Centre have been awarded funding for an innovative new project looking at the presence of airborne microplastics in people's homes.
Microplastics (plastic pieces smaller than 5 millimetres) have become increasingly prevalent in the natural world. Studies show that they are not only present in oceans, but also the air, our food, drinking water and even our bodies.
Working alongside the University of Leeds, the research team at UWE Bristol will investigate the presence of airborne microplastics in people's homes to yield new insight into where the particles come from.
The project, funded by UK Research and Innovation (UKRI), uses two different experiments to measure the tiny plastic fibres that are given off by clothes and other materials, and are present around us every day.
Citizens will place passive samplers in their homes, using low-cost microscopes to see and take pictures of their samples. They will then use machine vision approaches to characterise their own samples by size/shape/colour etc., at home.
The research team will also undertake confirmatory analyses so citizens can see what types of plastic (if any) are present in their samples, allowing the team to build an understanding of airborne microplastic generation at home.
Dr Ben Williams, Research Fellow for the Air Quality Management Resource Centre at UWE Bristol, said: "We're very excited to be able to undertake this research with citizens in Bristol and Bradford. The research community is very aware of the impacts of microplastics on the marine environment but little is known about the presence, origin or potential impacts of microplastics in air.
"This study has citizens at its heart, pushing the knowledge envelope and addressing an important policy gap of this emerging field."
Research into the health effects of breathing microplastics is still very young, but many of the particles are small enough to pass by our bodies natural defences and enter our lungs.
Dr Kirsty Pringle, research fellow in the Institute for Climate and Atmospheric Research at the University of Leeds, said: "This project is particularly important to understand levels of pollution in houses because it is our homes where we tend to spend the majority of our time, so any health effects are likely to be more significant."
"If microplastics can enter the lungs they may pose some risk to health. But we really need to understand more about what types of microplastics exist in the air in our homes before we can understand the health effects."
UKRI has invested £1.46m across five research projects looking at important issues such as mental health, migration and airborne microplastics.
Tom Saunders, Head of Public Engagement at UKRI, said: "In the last year, science, research and innovation have become something that people talk about every day, as we have seen how research directly affects our daily lives.
"These exciting new projects will see researchers and communities collaborate on a range of issues that affect our societies, from plastic pollution to mental health, supporting people from outside of the research and innovation system to bring their unique experiences and perspectives into the research process, helping them to develop new skills and knowledge which they can use in their own lives."