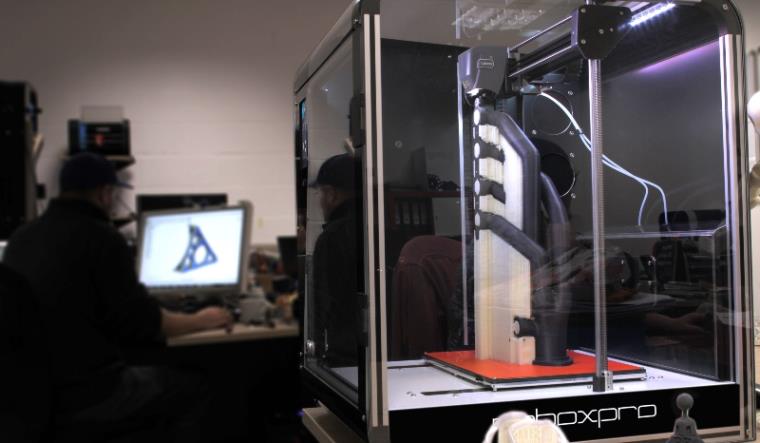 Researchers from UWE Bristol are exploring how 3D technology can be used to improve surgical training by creating organ simulators which look and feel like real body parts.
The three-year project is one of a number of PhDs funded by the Appearance Printing European Advanced Research School (ApPEARS) at the Norwegian University of Science & Technology, and supervised at UWE Bristol's Centre for Fine Print Research (CFPR). The aim of the PhD is to create interconnected model organs which mimic the appearance, elasticity and consistency of human tissue, thereby giving surgeons a realistic simulation on which to practice more complex procedures.
Led by David Huson, Senior Research Fellow at CFPR, the project builds upon previous pilot studies into how 3D technologies can be used to develop low cost, high fidelity surgical simulation models.
Mr Huson said: "This is a cross-disciplinary project, and we will be working closely with scientists, artists and surgeons to develop and test a working prototype. Physical organ simulators offer a more ethical alternative to human cadavers or animal subjects which are often expensive to obtain and difficult to access.''
PhD researcher and CFPR Associate, Marine Shao, who is also working on the project said: ''While there are a number of commercial organ simulators available, they tend to reproduce just the most common procedures and do not accurately replicate the properties and feel of human tissue. This research project will address those limitations and develop a low-cost method of producing organ simulations which are cheaper to produce and more realistic than existing simulators.''
Researchers will replicate the interconnected organs and tissues of the duodenum, gall bladder, liver, pancreas and bile duct to create a prototype capable of carrying out a laparoscopic bile duct exploration; a complex surgical procedure used to remove stones lodged in the bile duct.
As well as replicating the physical properties of organs, the project also aims to replicate the acoustic properties of soft tissue. Ms Shao added: ''The laparoscopic bile duct procedure involves using ultrasound to assess the bile duct for stones and anomalies, and to carry out anatomical delineation. It is therefore critical that the organ simulator we are developing mimics the acoustic properties of soft tissue, giving surgeons the ability to perform realistic ultrasound examinations in a controlled setting.''
Speaking of the importance of the project and how it will help surgeons with training, Dr James Clark, General Surgeon at Royal Cornwall Hospital who is Co-Supervisor of the project said: ''Surgical simulators are an essential part of surgical education in modern times. The more complex procedures, however, are rarely well represented by good quality reproducible models which enable the trainee to get a true realistic feel for the operation. This project aims to meet these demands, providing a more representative training model which both looks and feels more representative of the true anatomy.''
Unlike many existing organ simulators which are made of a single material such as silicone or hydrogel, Ms Shao will incorporate 3D printing technologies, alongside traditional casting methods, to combine different materials and create complex models which are more representative of human organs and tissues.
The Centre for Fine Print Research (CFPR) has been pioneering research in printing methods, technologies and practices since 1998. Working with academia and industries, their mission is to contemplate, understand, innovate and disseminate research on all aspects of print history, fine art practice, manufacturing and materials, from developing 3D printable ceramic materials to disruptive printing technologies and developing new inks.