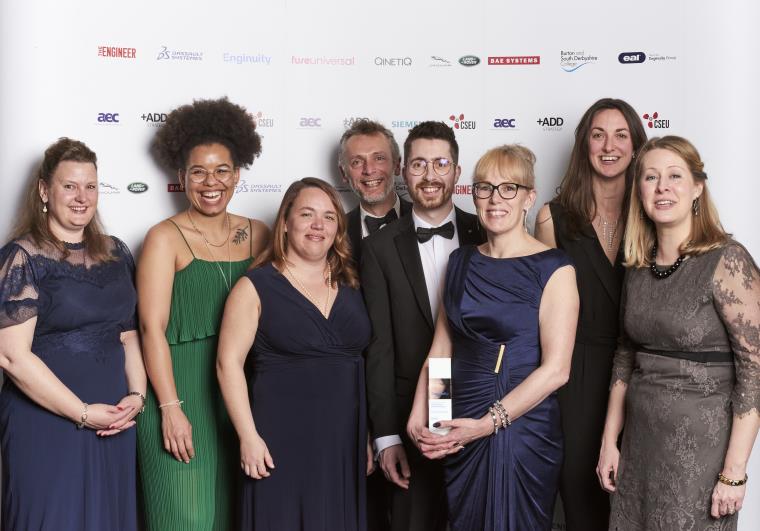 UWE Bristol's Head of Engineering Design and Mathematics has been recognised for her work to increase diversity in engineering.
Professor Lisa Brodie collected an Enginuity Skills Awards at a ceremony in London, seeing off competition from two shortlisted entrants in the Diversity in Engineering category.
The award recognises organisations, individuals or a team that has delivered a specific scheme, project, or initiative, that significantly contributes to shifting the dial of equality, diversity, and inclusion within the engineering and manufacturing industries.
Professor Brodie has overseen the development of the new School of Engineering building to ensure it has been designed with neurodiverse students in mind. The facility was co-designed in conjunction with a new engineering curriculum, to create a supportive environment for students from under-represented backgrounds. The building is equipped with individual study spaces designed to support students with sensory issues, such as people with autism who can benefit from features including white noise bubble tubes and adjustable, muted lighting.
In addition, Professor Brodie leads the Digital Engineering Technology and Innovation (DETI) Skills programme, which aims to improve diversity in recruitment into STEM industries (particularly engineering) while also enhancing retention of skilled engineers in the industry.
The Inspire programme has had particular success, reaching over 7,000 children in the South West so far. Some 42 per cent of the schools participating in face-to-face activities have been from the most deprived 20% of the country. The children have been exposed to innovative engineering workshops that connect them with real-life, diverse engineering role models to widen participation and aspirations for STEM careers.
Professor Brodie said: "It's just phenomenal to get this award. I'm really excited and proud. We've been working hard at the university to really make a change in engineering, particularly around autism and engineers and diversity. We need different minds. If we don't have a diversity of minds, then we're not going to get all the solutions we need."
Tod Burton, Deputy Dean for the Faculty of Environment and Technology, said: "We are all very proud of Professor Brodie and the work her team have tirelessly carried out developing an inclusive Engineering community here at UWE. This prestigious award from Enginuity justly recognises her efforts and the influence Lisa is having across the sector — a true reflection of UWE values."