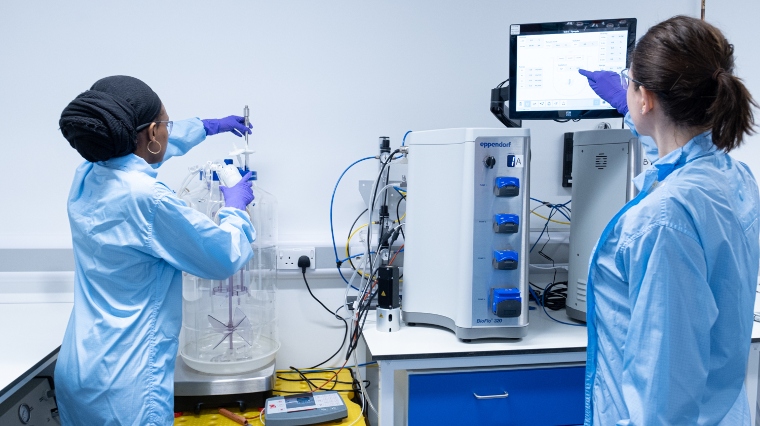 A bio manufacturing organisation based at UWE Bristol's Future Space has announced an initial investment of £12m from specialist healthcare investment firm MVM Partners.
eXmoor pharma concepts ltd is a bio manufacturing organisation working in the cell and gene therapy (CGT) and biopharmaceutical industries. The company, which helps clients with process development, design of new manufacturing facilities and compliance with Good Manufacturing Practice, joined Future Space in 2017 citing the quality of the labs and proximity to skilled resources in the South West as central to their choice for a new base.
Located at the university's Frenchay Campus, Future Space connects entrepreneurs and tech innovators with scientists, researchers and graduate talent to spark collaboration, innovation and growth. Future Space residents also benefit from lab and office space alongside access to research and funding schemes, potential partners and future customers.
The £12m funding will enable eXmoor's ambitious expansion plans which includes the creation a new 50,000 ft2 CGT process development and clinical manufacturing facility in Bristol. The company has expanded rapidly over the last five years, developing a portfolio of clients across the UK and internationally, completing over 400 projects across 15 countries to date.
Today, eXmoor's globally recognised team of scientists, consultants and engineers delivers end-to-end CGT biomanufacturing projects, supporting businesses in commercialising research processes and developing fully licensed facilities.
The investment from MVM denotes a key milestone in eXmoor's international growth strategy. The deal will facilitate expansion plans to create the new, dedicated CGT facility which will be designed in-house by eXmoor's highly experienced, Capital Projects team led by Director Gavin Sutton.
The new facility will increase capacity for process development and add early phase clinical good manufacturing practice for cell therapies, gene therapies and viral vectors.
The business will also grow and develop its Translation Consultancy and Capital Project teams. The growth plans will see significant job creation with staff headcount projected to increase from 40 to 200, within five years.
Angela Osborne, founder and chief executive officer of eXmoor said: "MVM has a proven track-record working with healthcare and pharmaceutical organisations globally. This deal gives us a strong foundation for our future growth, not just in the UK and Europe but further into other international markets, particularly North America. CGT is such an important area in biomedical research and one that has the ability to treat, prevent and potentially cure diseases that affect people all over the world.
"The Bristol area is a great place to build on our highly skilled and knowledgeable consultancy and process development teams, attracting talent from the excellent local universities in Bristol, Bath and Cardiff. We have been fortunate to be able to continue and expand our operations at the University of the West of England in the Future Space innovation centre operated by Oxford Innovation and we would like to thank them for their continued support."