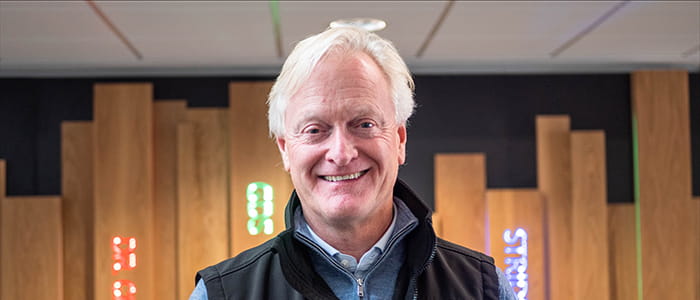 UWE Bristol is pleased to announce the donation by Peter Fane, Executive Chairman of the Nurture Landscape Group, of £50,000 a year for the next 5 years – an overall pledge of £250,000.
This donation, the first gift of this size from a UWE Bristol alum, will support the Entrepreneurial Futures Awards, a programme of funding for final year and graduating student entrepreneurs at UWE Bristol, enabling them to undertake entrepreneurship as a graduate destination.
The Entrepreneurial Future Awards will also ensure that students can focus on their ventures rather than working in employment alongside, with particular emphasis on supporting students who may not have the funding or social capital to grow their business. Over the next 5 years, Peter's donation will support 25 students, with awards of £10,000 each.
Also announced today is Peter's role as the founding member of the Elevate Investment Board, launching in 2023/24, which will provide UWE Bristol entrepreneurs an opportunity to pitch for equity investment and support in their high-growth potential businesses. The Board will contain a mixture of equity investors and those that are able to provide senior mentoring or in-kind support.
Peter worked in the family firm Waterers Landscapes after leaving UWE Bristol, serving as Managing Director until selling it in 2003. He founded landscaping services firm The Nurture Landscapes Group in 2008, serving as its Managing Director until December 2021. In January 2022 he took on his current role as Executive Chairman focused on acquisitions and strategy.
Peter, who graduated with a BA(Hons) Business Studies in 1985, said of his donation:
"As an alum of UWE Bristol I am delighted to support and help build the Entrepreneurship Ecosystem. UWE Bristol is full of talented people who have great ideas but finding funding can be tough, especially given in the current economic environment. I hope my donation will help the students fulfil their dreams over the coming years. My advice to them all is to think big and go for it!"
Professor Amanda Coffey, Deputy Vice-Chancellor at UWE Bristol, said:
"We are delighted to receive this generous donation from one of our long-term supporters, Peter Fane, and particularly proud to be announcing it in 2022, our 30th anniversary year. The donation will be used to support our outstanding student entrepreneurs, and help ensure entrepreneurship is accessible for all.
"We are also pleased to be creating the Elevate Investment Board with Peter, ensuring that our students have access to finance for growth, which is critical to scaling up start-ups, as well as benefitting from invaluable experience and advice from entrepreneurial leaders. This takes us a step closer on our journey to creating a sustainable Entrepreneurship Ecosystem at UWE Bristol."
The Entrepreneurship Ecosystem will provide every student at UWE Bristol with an opportunity to start their own venture and enable students from all disciplines to come together to form collaborative ventures; where engineering students, arts students, medical students, and business students work together to solve the world's biggest challenges through bold new projects.
If you're inspired to consider supporting students with a financial gift, please contact development@uwe.ac.uk.
About Nurture Landscapes Group
The Nurture Group is a multi-award-winning national service provider consisting of three established companies providing 'one stop' integrated services to a wide and diverse client base across the UK.
Nurture Landscapes provides Grounds Maintenance, Interior & Exterior Plant Displays and Winter Gritting to a wide range of clients predominantly to the corporate sector.
Gavin Jones provides landscape construction services to commercial and private clients and landscape maintenance services largely to government and MOD sites, public open spaces, the educational sector and royal parks and palaces.
Rokill Pest Control Services is one of the UK's leading pest control companies, also holding the Royal Warrant to Her Majesty the Queen.