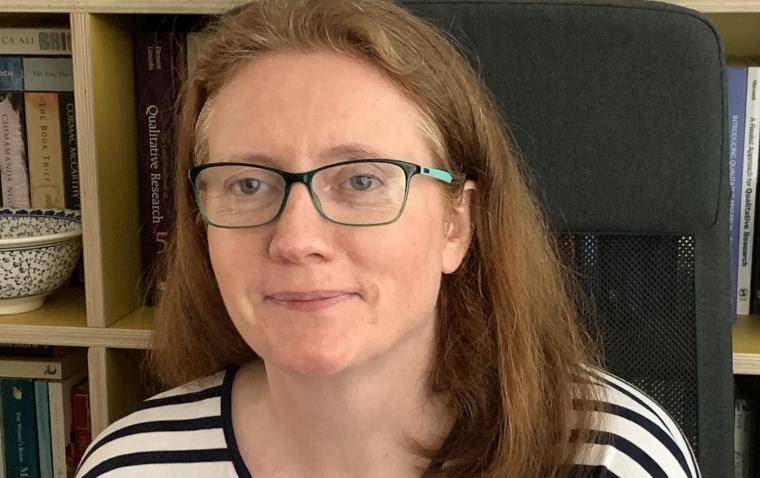 A UWE Bristol academic has received the British Psychological Society's 2022 Presidents' Award, which recognises the achievement of an individual engaged in psychological research of the highest possible standard.
Dr Victoria Clarke, an Associate Professor in Qualitative and Critical Psychology, researches the intersecting areas of gender and sexuality, family and relationships, and appearance and embodiment.
Her thesis research on the social construction of lesbian and gay parenting coincided with the founding of the Lesbian and Gay Psychology Section of the British Psychological Society (now named the Psychology of Sexualities Section), and her early career work was in the rapidly growing field of LGBTQ+ psychology.
The focus of Victoria's work shifted to qualitative methodology after a paper she wrote with Professor Virginia Braun, outlining a new approach to thematic analysis, became widely cited and influential in psychology.
Victoria's latest research is focused on physical disability in relation to sexuality, relationships and clothing, and body, prompted by her own experience of Multiple Sclerosis.
On receiving this award, Victoria said: "I am delighted to receive this recognition of my work. I'm grateful to everyone involved in the nomination process, particularly Professor Lindsay O'Dell.
"As a qualitative psychologist, it is particularly gratifying to receive recognition from the British Psychological Society, as a core part of my work has been promoting and developing qualitative research methods. For the last two decades, my main focus has been developing a thematic analysis method with my friend and colleague Professor Virginia Braun from The University of Auckland, as well as writing, teaching and communicating about qualitative research methods more broadly.
"Our mission is to demystify qualitative research, to make it accessible, and to support students and researchers in doing high quality qualitative research, and this award is a real validation for the work we have put in."
British Psychological Society President Nicky Hayes said: "Victoria Clarke has consistently carried out research of outstanding quality in the context of gender issues.
"She has also become internationally renowned for her work on qualitative research, and in particular as the co-author of a landmark paper clarifying thematic analysis, which continues to be widely cited both within and outside the discipline of psychology.
"I consider that she has made an outstanding contribution to psychology, and for this reason I regard her as a most worthy recipient of this award."
Victoria was also recently announced as winner of the British Psychological Society's 2022 Book Award. In the textbook category, Thematic Analysis: A practical guide (written by Victoria alongside by Virginia Braun) was given the title.
Victoria and Virginia have previously collaborated on methodological papers, commentaries, books, and as editors.
They said: "We're absolutely delighted to receive this award. Thematic Analysis was a real labour of love over five years and represents the culmination of over a decade of writing and thinking about and teaching thematic analysis.
"In this book, we tried to make qualitative research as accessible as possible while not sacrificing complexity and nuance. We've been so thrilled to hear from readers that the book has really helped them get to grips with thematic analysis.
"As qualitative psychologists, we are also thrilled that our corner of psychology is receiving this type of recognition from the British Psychological Society."
A journal article written by Victoria and Virginia has been named the second most read article out of 5,500 journal articles last year. 'Conceptual and Design Thinking for Thematic Analysis', published in Qualitative Psychology, was the second best read article of those published by the American Psychological Association in 2022.