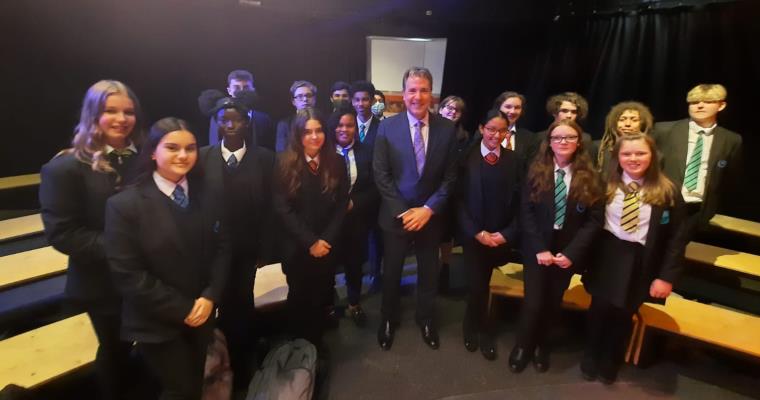 Young people discussed carbon emission cutting solutions with West of England policymakers as part of a summit organised by UWE Bristol engineering academics.
Pupils aged between 14 and 18 across the West were challenged to critically evaluate the feasibility of carbon emission reduction strategies to achieve Net Zero 2030. On each day of the summit, the students were encouraged to use design thinking strategies to address a different aspect of sustainability and engage with local engineers and politicians through live online discussions.
The Youth Engineering for Environmental Sustainability Summit (YEESS), which took place earlier this week, is a new initiative from the Digital Engineering Technology and Innovation (DETI) Inspire educational team at UWE Bristol. It was aimed at giving young people a voice to mitigate the impact climate change has on their futures.
Online chats, hosted by the "I'm an Engineer" outreach team, included Bristol Mayor Marvin Rees on 11 October, and Councillor Toby Savage from South Gloucestershire Council and Councillor Sarah Warren from Bath & North East Somerset Council on 12 October.
On 13 October, West of England Mayor Dan Norris, joined Year 10 students from Orchard School, Bristol at We The Curious for a live broadcast Q&A.
Dan Norris said: "When it comes to the climate emergency, young people are well ahead of politicians. They understand the need for urgent action. They are clear-thinking and straight-talking. And they have creative ideas about how we can move quickly to meet our ambitious net zero targets.
"Our region is home to so much innovative technology, with brilliant scientists, researchers and engineers working to meet the urgent challenges we all face.
"As they move into further study and into employment these young people will become valued additions to our huge West of England pool of talent, helping shape solutions."
YEESS delegates directly asked Mr Norris probing questions - "How do you plan on causing the public to actually change their habits – do you think it will succeed?" Eloise from Orchard School addressed a concern many children expressed during the summit.
Mr Norris agreed that to make changes in emissions, everyone has to work together and spread the word about the impact our habits are having on the planet, and that his job was to make the "best" low carbon options easier for the public to embrace.
Discussions from the summit will be communicated to policymakers in the West of England and the UWE Bristol DETI Inspire team will showcase outcomes to international audiences at COP26 in November.
YEESS delegates were assessing three core targets (and the suggested solutions) mapped into the Bristol and West of England action plans:
How might we take 40% of traffic off our roads by 2030?
How might we heat our homes without fossil fuels by 2030?
How might we reduce our waste by 65% by 2030?
For each target, students investigated the issue, imagined solutions framed by experts and then refined those ideas through online discussions before the daily Q&As with politicians.
About DETI Inspire
DETI Inspire champions science for children in the West of England with a particular focus on breaking stereotypes and challenging perceptions about STEM careers in order to appeal to under-represented groups in engineering. Our vision is for every young person in the West of England to have access to inclusive, engaging and inspiring engineering experiences with real-life relatable role models. We make it our mission to support and inspire the next generation of digital engineers.
For more information, please visit https://www.digitaltrailblazers.net/about or contact engineeringourfuture@uwe.ac.uk.
About Digital Engineering Technology & Innovation (DETI)
DETI is funded by the West of England Combined Authority; it is transforming engineering for the digital era and inspiring the next generation of engineers. It is helping identify the technologies that will drive innovation in developing sustainable products, systems, businesses, infrastructure and transport that underpin a net zero environment. It is creating a new, diverse engineering community and systems to investigate, develop & demonstrate the advanced digital technologies and skills needed for the sustainable products of the future.
Digital Engineering Technology & Innovation (DETI) is a strategic programme of the West of England Combined Authority (WECA), delivered by the National Composites Centre (NCC) in partnership with the Centre for Modelling & Simulation (CFMS), Digital Catapult, the University of the West of England (UWE), the University of Bristol, and the University of Bath. WECA funding of £5m is match funded by the High Value Manufacturing Catapult and industry.
About I'm an Engineer
I'm an Engineer is a student-led, online STEM engagement and enrichment project. Since 2012 it has connected 25,000 students with 370 engineers. Evaluation shows the online format is highly effective at reaching and engaging young people, especially those under-served by other STEM interventions.