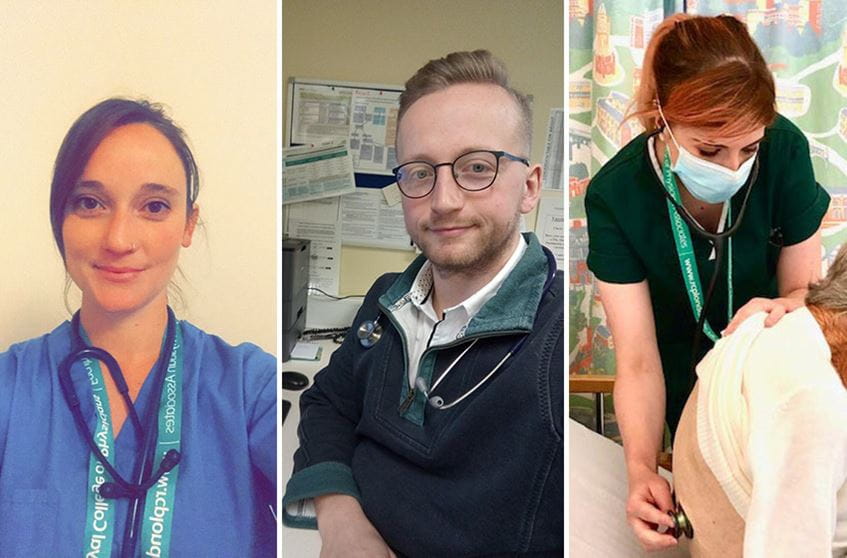 UWE Bristol's Physician Associate (PA) graduates have been playing an important role in the nation's response to the coronavirus crisis. Alumni from the University's 2016-2018 and 2017-2019 cohorts are working in a variety of NHS settings across the country, including primary and secondary care, supporting doctors in the diagnosis and management of patients.
Here, three PA graduates offer an insight into their working lives during the pandemic.
Anna Belen Carrasco PA-R (class of 2019)
Hereford County Hospital
"I'm a newly qualified PA, having graduated from UWE Bristol at the end of 2019. Before this I trained as a mental health nurse in London. After graduating I was offered a job in the geriatric department at Hereford County Hospital where I have now been since the beginning of December.
"Since the Covid outbreak started, juniors as well as consultants have started to be moved around from all specialties. In the middle of March we met with our PA supervisor, one of the respiratory consultants. A separate respiratory rota was being made and she wanted PAs to be a part of it - if other wards became poorly staffed they would need a junior who could prescribe as well as needing extra juniors on respiratory and PAs would help with the continuity. So on the 18th of April we all started working on the respiratory ward. The new rota means we do normal days, twilight shifts and weekends. There is always a mix of doctors and PAs on each shift and we are divided between the main respiratory/Covid ward and the other two respiratory 'clean' wards.
"It will definitely be a challenge but also a brilliant learning opportunity. It has been great to see the PAs being included in a junior doctor rota, as well as having the feeling we can contribute to the team. On the day shifts we do a ward round as normal, and spend the afternoon doing the jobs, however due to the nature of the Covid patients, the consultants come back and do an afternoon ward round as well. The twilight shifts mean we can hand straight over and they can continue with any jobs that need finishing, it also means there are people from the medical team constantly on the ward until 9:30 when the night team takes over. For now the plan is for us to stay there until the end of June, however as we all know in these uncertain times things change on a daily basis."
James Willis PA-R (class of 2018)
Crest Family Practice, Bristol
"Day-to-day practice has changed considerably during the Covid-19 pandemic. At Crest Family Practice, we have moved to a total remote consultation model. This means that all consultations start as either a telephone triage call, or a videophone call. Typically I will do anywhere from 10-15 of these per day, depending on the workload coming through our booking lines in the morning.
"From these remote consultations I then decide whether the patient needs to be seen face-to-face. If I'm certain there is little-to-none Covid-19 risk to the patient and myself, I will invite the patient to the practice for a brief face-to-face consultation where I will revisit the pertinent positives and negatives in their clinical history, before conducting a focussed examination or procedure. If, on the other hand, I feel as though there is a risk of the patient presenting with Covid-19 then I will discuss the case with a senior GP and we will decide together the next steps.
"If we suspect a patient has Covid-19 then we invite the patient to the practice to run a 'car-park assessment'. This means that either myself or the GP will invite the patient (provided they are fit and well enough to do so) to drive to the practice car park, and remain in their car whilst we obtain a basic set of observations. We are especially interested in the patient's temperature, heart rate and oxygen saturations. If these are satisfactory we direct the patient to return home with self-isolation advice and safety-netting that if they deteriorate they can call us back in hours or speak to NHS 111 out of hours.
"However, if the patient is unwell and we have a high degree of suspicion of Covid-19 then we arrange for them to be admitted via the medical admissions unit. Thus far I have had to do this only for a couple of patients, but have gained invaluable experience from doing so.
"Away from clinical practice, I've also worked with the team here to do an audit on our patients who receive B12 intramuscular injections. This is a procedure which was recommended be suspended during the Covid-19 pandemic to mitigate risk to both patients and clinical staff. I worked on a project analysing which of our patients had critically low B12, and who had antibody positive pernicious anaemia. For these patients, we continued their B12 injections as there was a clear need to do so. For all other patients, we switched them to oral B12 supplementation. This has not just been good from reducing patient and staff risk during the pandemic, but has also helped the practice to offer more cost-effective treatment for patients."
Jasmine Pearce PA-R (class of 2019)
Royal Devon and Exeter Hospital
"The PA role is new at Royal Devon and Exeter Hospital and they've been super supportive of PAs. I teach the Plymouth students and do simulations with them weekly but this is on hold until the pandemic ends.
"I've been lucky enough to work on two drug trials to treat Covid-19, publish a British Medical Journal report on our first Covid patient and to work frontline from the start of the pandemic. This is very exciting for PAs. We're working on the RECOVERY trial which is; standard treatment vs low dose dexamethasone vs ritonavir-lopinavir vs hydroxychloroquine vs azithromycin. We're also carrying out a genetic study on the viral code on positive patients; the first four samples we tested have shown envelope mutations compared to the Chinese viral code. We're also investigating into blocking the ACE2 receptor to prevent Covid bonding."
The Physician Associate is a growing professional healthcare role. Working under the supervision of a doctor, PAs perform a number of day-to-day tasks e.g. taking medical histories from patients, performing physical examinations, diagnosing illnesses and analysing test results. The role of Physician Associate is flexible and dynamic and can be found in a variety of healthcare settings.
Alexander Stevens, Programme Leader for the two-year MSc Physician Associate Studies course at UWE Bristol, said he was immensely proud of the part his former students were playing caring for patients in acute, community and primary practice.
He said: "UWE Bristol has particularly strong links with its Physician Associate graduates and it is so pleasing to hear they are playing such an important role in supporting communities up and down the country during a time of national crisis. In a period when doctors are under extreme pressure, Physician Associates are equipped with the right clinical skills, knowledge and professional attitudes to effectively support doctors to provide excellent care for patients."