NHS Nightingale Hospital Bristol is opened virtually on UWE Bristol campus by HRH Prince Edward, Earl of Wessex
See all news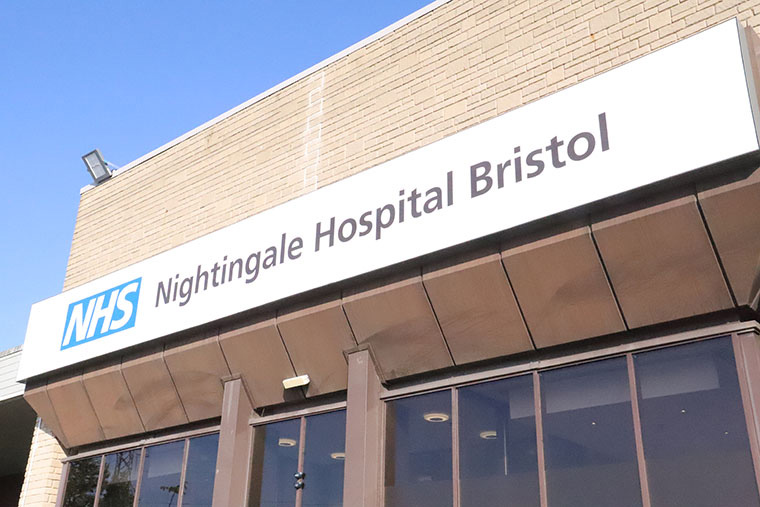 Today NHS Nightingale Hospital Bristol was officially opened by HRH Prince Edward, Earl of Wessex, on the University of the West of England (UWE Bristol)'s Frenchay campus.
The ceremony, which was also virtually attended by the Secretary of State for Health and Social Care Matt Hancock MP and NHS chief executive Sir Simon Stevens, took place at the hospital site but in line with social distancing measures.
Work began 3 weeks ago to convert UWE Bristol's Exhibition and Conference Centre (ECC) into a 300-bed temporary hospital to provide hundreds of extra beds if local services need them. Seven Nightingale hospitals have been rapidly set up around the country, providing over 3,500 more beds to help local hospitals ensure all those who need care can get it.
Accommodation that is not currently being used by students is also being made available for hospital staff on Frenchay Campus to provide doctors, nurses and other key workers with easy access to the new facility.
The Earl of Wessex said at the opening:
"I am delighted that the Severn hospital network now has this extraordinary facility to help in the fight against COVID-19. Sincere congratulations must go to each and every one of you involved in constructing this hospital in just 24 days. A quite remarkable achievement and one you should be justly proud of. Particular thanks ought to go to the University of the West of England for allowing part of its Frenchay campus to be used."
Professor Steve West, Vice-Chancellor at UWE Bristol, said: "The creation of NHS Nightingale Hospital Bristol has been a truly incredible team effort and the speed at which this hospital has been built is a testament to the dedication, hard work, collaboration and teamwork from UWE Bristol staff, the NHS and the contractors, Kier.
"We are proud to be able to offer our facilities to help the NHS and support the local community and wider region at this exceptionally challenging time, and although we sincerely hope this facility will not be needed, it has the potential to save many lives and play a vitally important role in limiting the impact of coronavirus in the South West."
Marie-Noelle Orzel, Chief Officer, NHS Nightingale Hospital Bristol, said: "NHS Nightingale Hospital Bristol is truly a collaborative project across a wide range of organisations and companies. We are very grateful to our hosts at UWE Bristol for their continuing support and commitment to partnership working. It is thanks to them, as well as our other partners, that we are where we are today – ready to care for patients with compassion, if and when we are needed."
A degree of flexibility has been built into the planning so that as the clinical picture and patient requirements evolve, the hospital will be able to adapt accordingly.
UWE Bristol's Glenside Campus has also recently been set up to receive volunteers who will be working as frontline staff at NHS Nightingale Hospital Bristol. The development and preparation for frontline staff training has been a collaborative effort between the University and colleagues from the NHS, and supports UWE Bristol's existing partnerships working with NHS organisations across the region. The clinical simulation spaces at Glenside are equipped to deliver frontline training to 1,000 volunteers over the coming weeks.
In addition to offering up the ECC, UWE Bristol has been involved in tackling other areas of the pandemic, including producing thousands of litres of disinfectant to support frontline clinical areas.
Disinfectant produced in a lab at Frenchay campus has been sent to South Western Ambulance Service NHS Foundation Trust, local GP surgeries, care homes and police stations. It is being used as either a surface disinfectant in high throughput areas (door pads, ambulance beds and desks) or as an alternative to hand sanitiser. One thousand litres of the disinfectant will be delivered to Nightingale Hospital Bristol for decontamination of auxiliary spaces.
At Bristol Robotics Laboratory, at Frenchay campus, a team of technicians are using laser cutting technology to produce protective visors for staff at Avon and Wiltshire Mental Health Partnership NHS Trust.
NHS Nightingale Hospital Bristol is expected to remain operational over the summer and the site is planned to be returned to the University ready for the next academic year in the autumn. To ensure health and safety is protected, the University is operating clearly defined separate zones across the campus to ensure hospital staff and patients are separated from UWE Bristol staff and students on site at all times.
The hospital is being run by nurses, doctors, managers and other staff from different NHS organisations across the South West and is designed to provide the highest level of specialist care for critically ill coronavirus patients in the Severn area critical care network. It is formally hosted by North Bristol NHS Trust.