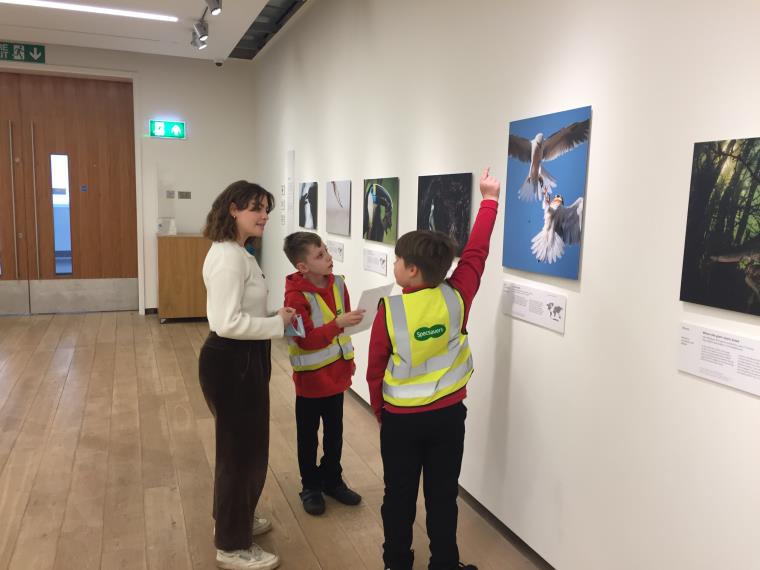 Primary school pupils in Bristol are taking part in bespoke photography workshops influenced by the Wildlife Photographer of the Year exhibition.
For the first time, a group of third year photography students at the University of West England (UWE Bristol) are working with the team at Bristol Museums Learning to develop and deliver an innovative new workshop for primary school children in Bristol. The sessions will work in tandem with the Wildlife Photographer of the Year exhibition produced by the Natural History Museum, which is currently on display at M Shed.
During March pupils from Two Mile Hill Primary and Ashton Vale Primary will take part in the workshops that start with a guided tour of the exhibition and learning how to use professional level camera equipment. Inspired by the exhibition and conversations around the photos they have seen, children will then take part in treasure hunt-style photography activities along the harbourside.
Councillor Craig Cheney, Deputy Mayor of Bristol with responsibility for Culture, said: "Working in partnership with university students to develop our museums learning programme for school children not only means we can offer a wider range of topics but also means we can potentially inspire children to consider creative careers.
"This intergenerational sharing of skills and experience has been enabled by our partnership with UWE Bristol as our engagement sponsor for the Wildlife Photographer of the Year exhibition, and will benefit both university and primary school students."
John House, Senior Lecturer in Photography at UWE Bristol, said: "The sessions create positive opportunities for all those involved, from introducing the school children to Bristol's museums and gallery spaces to encouraging them to consider ideas around science, ecology and environmental concerns in a fun and creative way.
"This helps them to use photography and art to re-examine their surroundings, stimulate new ideas and make connections between different concepts. The workshops also provide UWE Bristol students with a supportive environment to get real world experience in delivering community-based activities as they look to their future careers."
Caroline Booth-Morris, Development Manager, Bristol Culture & Creative Industries said: "Bristol Museums is delighted that our partnership with UWE Bristol could develop into such an amazing, bespoke project that reflects the missions of both organisations. By working closely with supporters, Bristol Museums hopes to create meaningful partnerships that have a real impact on our communities, and benefit everyone involved".