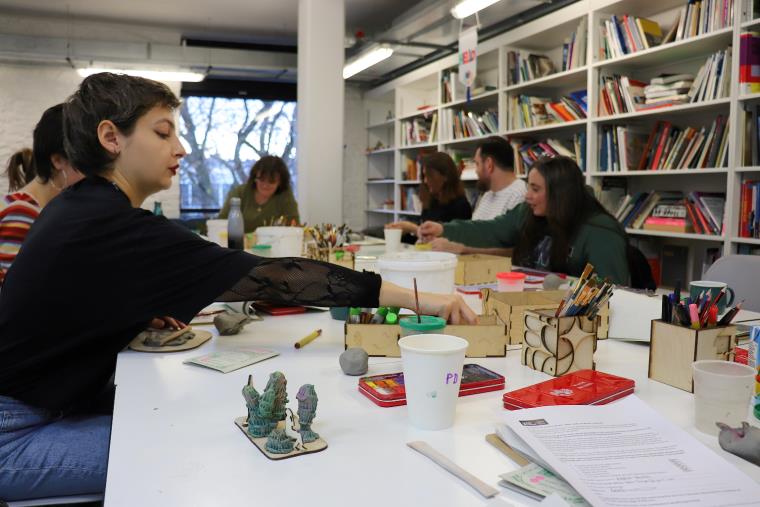 The first stage of a project to create a public artwork for UWE Bristol's Frenchay campus has got off to a flying start, with over 135 people sharing their ideas for the new public space during a series of free creative workshops.
Artists Juneau Projects (Phil Duckworth and Ben Sadler) working with Arnolfini have been running the Bryophyte Club sessions to gather ideas for sculptural forms inspired by mosses, bryophytes, and liverworts – the often-overlooked plants that are so vital to ecosystems.
Playing with clay, watercolour and laser-cut wood, the models made by the students, staff and members of the local community will directly inspire the final designs for the sculpture garden, which is being created as part of new student accommodation development and will be an area for the local community to enjoy.
Alix Rothnie, Project Producer at Arnolfini, said: "Firstly, I'd like to thank all the participants in these workshops so far, and for all the ideas and conversations shared. In particular to the UWE Bristol School of Architecture and the Built Environment, RBI staff, the University's Green Team, the Students' Union, Grow Wilder, Lockleaze Community Trust, and Stoke Gifford Retirement village.
"Going forward, there are plenty of opportunities for people to get involved, including workshops in local primary schools inspired by the project, leading to an exhibition at the Arnolfini in spring. The next stage of the project continues to be very hands on – it involves building the sculptures themselves, so we're keen to invite anyone interested to get in touch and sign up."
William Liew, Chief Financial Officer at UWE Bristol, said: "We're delighted that so many people have shown an interest in this project, which we hope will provide a long-term benefit to both the local community as well as future students in years to come."
Four UWE Bristol Fine Art students are working with Juneau Projects and Arnolfini as Artist Assistants supporting the work as it progresses. And, on 2 February, Juneau Projects will be delivering a talk at Arnolfini for The Art of the Maker series, which is a collaboration between Arnolfini and UWE Bristol's School of Art and Design and the Centre for Fine Print Research.
From March until May 2023 'Making Days' will be taking place at UWE Bristol's Frenchay Campus, where anyone can drop in to the workshops to create the sculptures. All are welcome, and no previous art experience is necessary - come along and have a go.
Anyone interested in taking part or would like to find out more about the programme of events can email publicart@arnolfini.org.uk