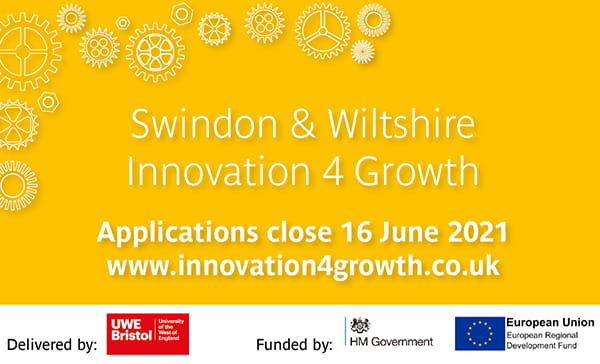 UWE Bristol is launching a new round of Innovation 4 Growth, a funding programme that supports SMEs in Swindon and Wiltshire undertaking innovative research and development (R&D) projects. Businesses can apply for grants of £10,000 to £40,000 to help their projects, with the programme covering 35% of project costs.
Funded by the European Regional Development Fund (ERDF) and delivered by UWE Bristol, Innovation 4 Growth is open to projects from all sectors, creating new products, new services and new jobs in the region. Applicants must be SMEs and based in Swindon & Wiltshire.
Once their grant application is successful, businesses can access dedicated support from a team of experts at UWE Bristol to help them develop project ideas and submit grant applications.
The programme is to host a series of free training workshops in Swindon and Wiltshire to support businesses to develop innovative products, processes, technologies, and services. The training is suitable for SMEs at any stage that wants to innovate and grow their businesses.
Professor Martin Boddy, Pro Vice-Chancellor for Research and Enterprise at UWE Bristol, said: "We are excited to be able to bring Innovation 4 Growth to Swindon & Wiltshire and look forward to working with the region's SMEs. This programme aims to support companies to realise their potential through innovation and R&D. The Innovation 4 Growth programme in the West of England has supported hundreds of companies, giving out £1.5m of grants and creating 130 jobs."
Paddy Bradley, Swindon and Wiltshire Local Enterprise Partnership CEO said of the scheme: "SMEs are the beating heart of our local economy and we welcome this effective grant funding programme to the area. Targeting innovation through funding research and development programmes will help elevate our region through job creation, skills development and new-to-market products. I am looking forward to seeing the work that comes out of this exciting programme."
The deadline for completed applications is midday on 16 June 2021. Register your interest for an application form and one-to-one support at www.innovation4growth.co.uk.
UWE Bristol is also currently running a separate funding scheme for SMEs in Gloucestershire that want to apply for grant funding to scale up. SMEs in the West of England can access free Digital Support from UWE Bristol.