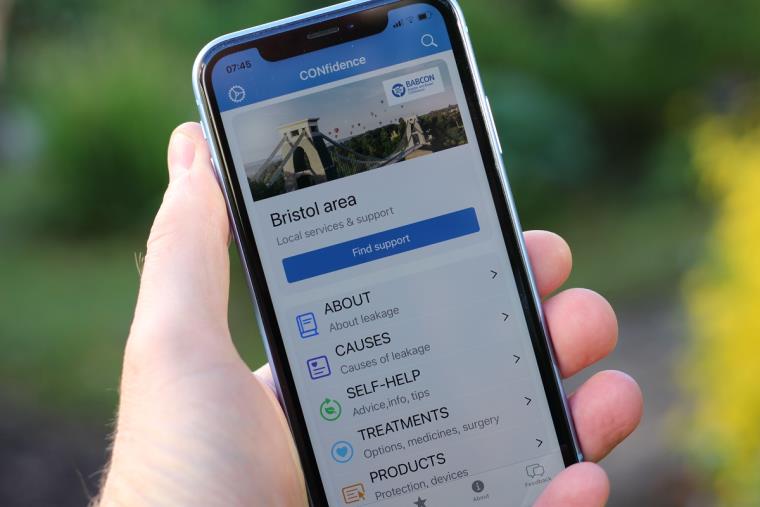 A new app to support people with continence issues has been launched today by UWE Bristol, the Bladder and Bowel Confidence Health Integration Team (BABCON) and associated health partners, at the beginning of World Continence Week (21-27th June).
The new CONfidence app, developed by Expert Self Care, aims to address inequalities in care for patients with pelvic floor disorders and to improve services for the future, as well as provide support and advice to people suffering in silence with continence issues.
In the UK, over 14 million people experience bladder control problems and 6.5 million have bowel control difficulties. Many people suffering from these health concerns do not seek medical advice or support for fear of embarrassment, potentially leading to further health complications. It can take patients 10 years from the first presentation to their GP to reach an accurate diagnosis and appropriate treatment.
The CONfidence app provides signposting and self-help for people with bladder and bowel leakage issues, offering advice and information that can help at the earliest opportunity. The app, the first of its kind in this subject area, will have a real impact on improving bladder and bowel health for the population.
Dr. Nikki Cotterill, Associate Professor in Continence Care at UWE Bristol and Director of the BABCON Health Integration Team is committed to changing the narrative around continence care, empowering people to self-help and improving continence education and training.
She said: "People with incontinence and pelvic floor symptoms have been overlooked for years. The Covid-19 pandemic has magnified existing disparities in services, and led to unacceptable delays in patients' access to treatment. We must change this situation and make sure that in the future, patients receive the care they need in a timely manner.
"Enabling people with symptoms to access this advice and information is key to empowering people to address and improve their symptoms at the earliest opportunity. Evidence-based, self-help treatments can reduce symptoms and even cure them."
Delayed treatment is not just detrimental to the patient's quality of life, physical and mental health and well-being but can lead to a need for more intensive treatment, requiring additional resources and costs. If diagnosed quickly, symptoms can be improved before they become severe.
Nikki added: "Bladder and bowel symptoms are more common than most of us realise. We probably all know somebody who is experiencing some level of difficulty, we just don't know it because we hide these symptoms and struggle on.
"We need more of a national focus on bladder and bowel health to ensure these symptoms do not remain in the shadows and provide appropriate opportunities for improvement".
The new app is just one way of raising awareness of continence issues and empowering people to seek support and manage their symptoms. It contains self-help tips, information and advice, exercises and services available in the community.
Patient representative Jacqueline Emkes, who has a bladder condition, said: "I have not been able to get information from my GP or local health continence service to help me work out how to cope. However, this app, not only explains it all to me, the patient, but also makes it so much easier for families, carers and GPs and primary health care providers, to access advice and gain knowledge, and find the answers to all the questions we have.
"It goes without saying that Covid has put even more strain on a struggling continence service nationwide. This app will be unbelievably vital to guide patients in the months and years ahead. With the adoption by the NHS and GPs, continence services and nurses in the community, at last, can find reliable help is at hand."
The app has been developed in collaboration with experts nationally including the Florence Nightingale Foundation, the West of England Academic Health Science Network and Bristol Health Partners Academic Health Science Centre. It is available to download on Apple and Android phones. Search for 'CONfidence expert''.