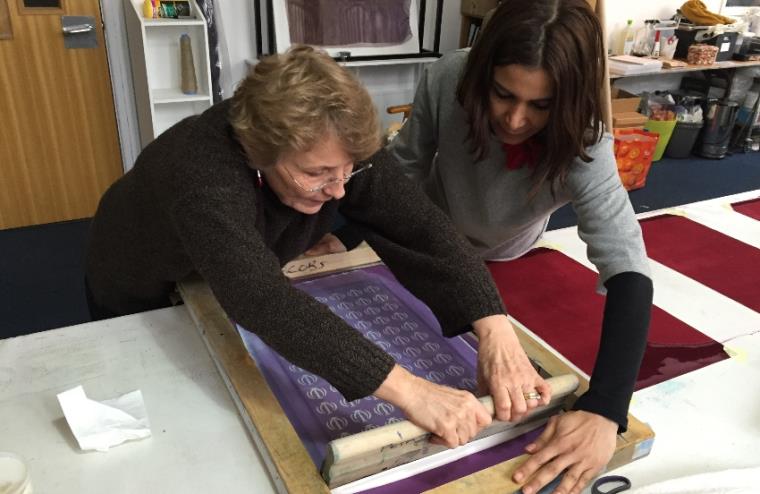 A UWE Bristol lecturer has been awarded one of photography's most prestigious international awards for her most recent book depicting life in Iran. Amak Mahmoodian, who is a Senior Lecturer in Photography, was awarded Best Photo-Text Book in the Recontres D'Arles Awards 2020 for her book, Zanjir.
Born in Iran and now living in Bristol, Amak explores the themes of home, identity and exile in her award-winning book. Zanjir features imagery of Persian royalty from the Golestan archives in Tehran, alongside photographs that Amak took while in Iran between 2002-2009. The images explore Amak's feelings of loss and separation from her family and homeland which she has not visited for 10 years.
The book also features poetry written by Amak herself alongside the Persian princess and memoirist Taj Saltaneh (1883-1936) in an imagined conversation where both figures describe their feelings of home and exile.
Amak said: ''I invited poetry into my book as a way of sequencing my photography, but also as a way of describing the images that I have in my heart and mind but couldn't see in real life. Taj Saltaneh is a remarkable woman and I felt that her diary connected me to the past. When I read her memoir, I found that she shared similar feelings about her family and homeland as I do. Though living our lives almost a century apart, we share many similarities so it was important that Taj Saltaneh's writings also featured in Zanjir; her writings deserve to be seen and known. "
The Recontres D'Arles Awards are open to artists globally and this year celebrated its 50th anniversary. Each award comes with a prize fund including €6,000 for the Best Photo-Text Book Award.
Speaking of her accomplishment, Amak said: ''I am honoured to win the Recontres D'Arles Award and to have recognition for my work. My projects are deeply personal and are like the chapters of my life, while also pertaining to wider social issues. Like I always say to my students, it is important that your work forms personal connections and this award proves that something which is personal can also be successful."
In January this year Arnolfini premiered an exhibition of Amak's new body of work and associated book, Zanjir. The exhibition, which was seen by thousands of people to great acclaim, created a truly virtuous circle given Amak's profile as both a local and international artist, her work as an academic with UWE Bristol and the university's successful partnership with Arnolfini.
Gary Topp, Executive Director at Arnolfini, commented: ''The announcement that Amak's book, Zanjir, has won the prestigious Arles Photo-Text Book Award is fantastic news and we offer our congratulations to her and Bristol publishers RRB Photobooks and IC Visual Lab. We were delighted to work with Amak earlier in the year and can only reflect again on the popularity, warmth and positivity around the exhibition and the book. This international prize brings all of those elements into focus and the success is richly deserved.''
Zanjir by Amak Mahmoodian is available to purchase at www.rrbphotobooks.com/products/amak-mahmoodian-zanjir