Green Skills for Jobs and Entrepreneurship Programme wins sustainability prize at Green Gown Awards
See all news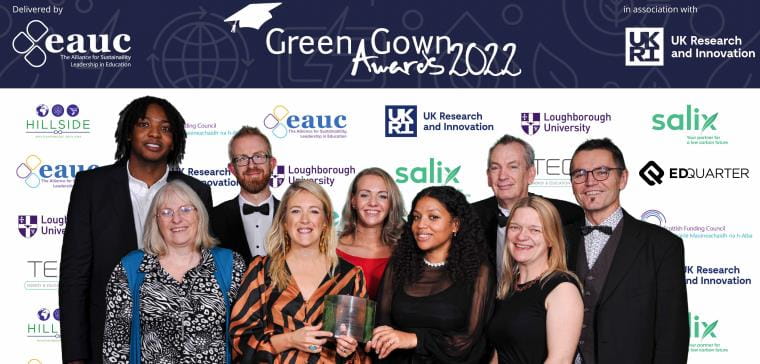 The Green Skills for Jobs and Entrepreneurship programme has won the Diversity, Equity and Inclusion Award at this year's Green Gown Awards which celebrate the inspirational sustainability work and projects of UK and Ireland higher education institutions.
The programme, which is led by UWE Bristol, in collaboration with NatWest and the Black South West Network, provides access to green jobs, training and business opportunities to Black, Asian and minoritised young people (aged 18 — 28), and recent graduates living in Bristol, South Gloucestershire, North Somerset, Bath and North East Somerset.
The judges commended the programme, saying "it addresses an important issue in the environmental profession. The project has achieved so much over such a short period of time, reflecting the passion of the people involved. A very replicable project that fits the award criteria very well."
Ninety young people have successfully completed the first stage of a transformational 'first of its kind' green skills training programme designed to empower young people with skills, knowledge, insights and industry contacts to assist them in pursuing careers in the growing green sector. The initial phase of the project has provided each of them with access to eight days of paid training - covering energy, food, living and the circular economy, transport and air quality, Passivhaus construction, innovation and enterprise.
They have been introduced to a number of inspirational industry, community and business consultants, participated in interactive workshops, completed group activities and been provided with opportunities to reflect on their personal development and future careers through one-to-one coaching and mentoring sessions.
Stage two of the project provides the learners with the opportunity to embed their knowledge and refine the skills they have been developing through access to one of four skills pathways: a fully funded internship with a local business, a fully funded research internship at UWE Bristol, funding to cover industry training, or further learning and support to help set up a Green Tech business or Social Enterprise.
Jessica Tomico, UWE Bristol Senior Business Development Manager for Green Skills for Jobs and Entrepreneurship, said: "The Green Skills Team are delighted the programme has been recognised for its impact to support a just and inclusive transition to a green economy, and tackling the underrepresentation of people from Black and Minority Ethnic communities in environmental careers, recognising that this is the second least diverse sector in the UK.
Green skills are the building blocks we need to meet global net zero ambitions. They must permeate every industry and sector of the economy to stimulate innovation and mobilise the workforce transition needed to address the threats of climate change. Collective action requires equitable civic and economic inclusion of Black and Minority ethnic communities."
UWE Bristol was also highly commended in three other award categories. Associate Professor Dr Verity Jones in the Staff Sustainability Champion category for her work embedding Sustainable Development Goals in all UWE Bristol programmes and partnership work with local schools, whilst Rupert Gale in the Research With Impact Student category for his research project findings that have contributed to South Gloucestershire Council's net zero targets for the region.
The University was highly commended in the Tomorrow's Employee category for its innovative and unique compulsory Sustainable Global Public Health module which provides undergraduate nursing students with the knowledge of public health and sustainability to be applied to healthcare in general.
The winners were announced at an awards ceremony at Loughborough University on Tuesday 8 November 2022. View the full list of winners and finalists on the Green Gown website.
The Green Skills for Jobs and Entrepreneurship programme is funded by the UK Government's Community Renewal Fund (CRF) and managed by the West of England Combined Authority (WECA) on behalf of the Department of Levelling Up, Housing and Communities (DLUHC).