Glow in the dark gemstones show the jewellery industry that laboratory-grown crystals can shine bright
See all news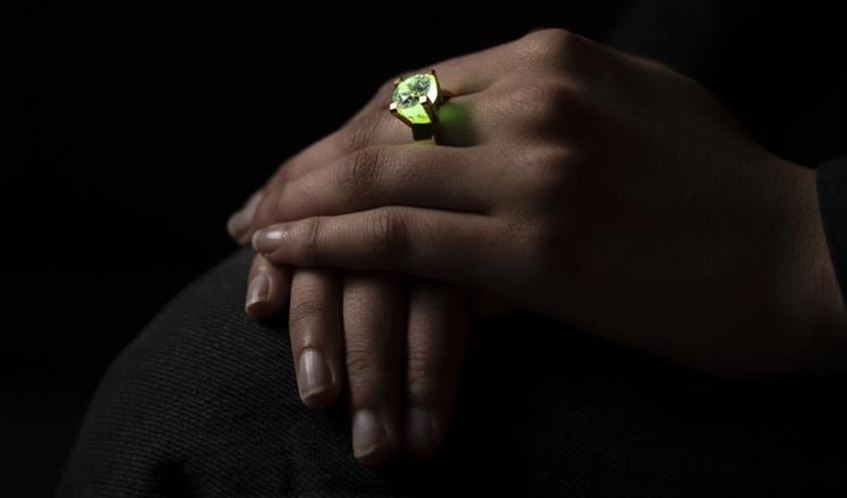 A UWE Bristol researcher hopes to revolutionise the jewellery industry and its supply chains with the creation of unique gemstone and jewellery designs with ground-breaking properties - including the world's first single stone glow-in-the-dark manmade crystal.
For the last three years, award-winning jewellery designer Sofie Boons, who's a Crafts Council Research Fellow at the university's Centre for Print Research (CFPR), has been undertaking tests on the viability, limitations and use of innovative and experimentally grown crystals in the production of contemporary jewellery.
Working in collaboration with Swiss company BREVALOR Sarl and using their new material 'BRG', Sofie has successfully facetted a single stone out of the material – offering jewellery designers a crystal which is not only brilliant when seen in daylight, but illuminates when seen in the dark.
This is a step-change in the development of gemstone materials for the jewellery industry. Such crystals and several new compositions emitting persistent luminescence light with various colours have properties very close to classical gemstones: their hardness allows them to be shaped and facetted, and their physical properties give them the optical appearance of gems.
The BRG crystals are grown using techniques very similar to those used for the growth of silicon single crystals. Silicon forms the backbone of modern technology starting with the transistor invented in the 1950's and transitioning to the modern computer, telecommunications, and information technologies. Anyone carrying a mobile device is relying on the single crystals within. Today, the modern world functions because of single crystals. This ongoing progress is often referred to as the 'crystal age' and phosphorescent (i.e., the scientific term for 'glow-in-the-dark') single transparent crystals are a new addition to these developments.
Sofie said: "Today crystal growth is driving innovations in a range of sectors. However, in the jewellery industry lab-grown gemstones have sparked a war of words and much debate about their value. This despite their sustainability and creative potential. BRG demonstrates how crystal growth technologies could create materials that totally re-imagine what the gemstones available to us could do. This is the most exciting opportunity for contemporary jewellery designers, looking to create unique jewellery pieces.
"But, for this to happen there needs to be a change in attitude within the sector towards these laboratory-grown materials which are often referred to as synthetic. They need to be valued fairly in the industry, and scientists who are creating them shouldn't be feared more than the most accomplished of thieves by gemstone dealers and retailers."
The research into BRG began after Sofie contacted the founder and crystal grower at BREVALOR Dr. Daniel Rytz and through her work on her PhD she continues to challenge him to find solutions to problems when realising her ideas. He said: "I have been passionate about the creation of a transparent single crystal that would have phosphorescent effects for many years, and I am very pleased to have collaborated with Sofie on the translation of these materials into gemstones and wearable jewellery designs."
The favourable properties of BRG gemstones are expected to trigger numerous new and spectacular ideas in the areas of contemporary jewellery, design and ornamental objects, according to Sofie. Her first contemporary jewellery pieces using BRG are a pair of earrings and pendant demonstrating the material's unique ability to guide light when engraved. She is also working with Dr. Rytz on the launch of a range of gemstones that could be purchased by jewellers to enable them to incorporate the material in their designs.
Alongside her PhD, which is scheduled to be published in 2024, Sofie is planning several exhibitions in the Bristol and London areas, and in Germany, including in the gemstone city of Idar Oberstein. The exhibitions will mark the launch of a larger jewellery collection using more materials created by Dr. Rytz, as well as contemporary pieces of jewellery that challenge and question the norms surrounding these lab-grown gemstone materials.