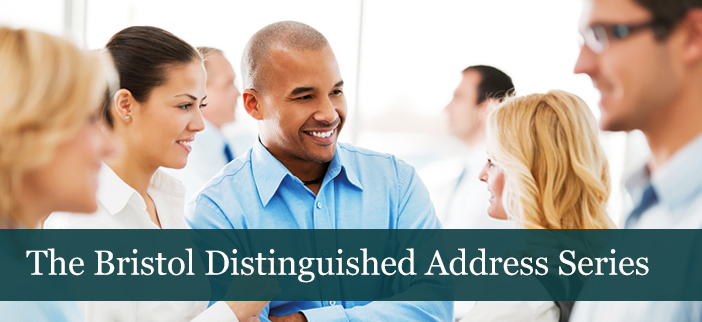 The University of the West of England (UWE Bristol) is pleased to announce the latest programme of speakers for the forthcoming Bristol Distinguished Address Series. The lecture series has now been certified in principle for Continuing Professional Development (CPD) purposes by the CPD Certification Service*.
Now in its tenth year, the Bristol Distinguished Address Series is well regarded by the City's business community as the leading place to hear about the challenges, issues and decisions being made at the highest level of strategic leadership.
The Bristol Distinguished Address Series is free to attend and open to members of the business community.
The line up of speakers for the Spring 2019 is:
Wednesday 16 January 2019
John Allan CBE, President of the CBI & Chair, Tesco & Barratts
'Britain - What Does the Future Hold'
Wednesday 30 January 2019
Warren East CBE, Chief Executive Office, Rolls-Royce
'How Can the UK be a Natural Home for Global Engineering and Technology Champions'
Wednesday 13 February 2019
Ruth Hunt, Chief Executive, Stonewall
Wednesday 27 February 2019
Joe Garner, Chief Executive Officer, Nationwide Building Society
Wednesday 6 March 2019
Laura Wade-Gery, Non-Executive Director, John Lewis Partnership, British Land, NHS Improvement
Human and Digital - The Challenge and Power of Harnessing Both
Please contact the Media Relations office if you would like to request a media seat or have a media query about this event, email pressoffice@uwe.ac.uk.
The series is delivered by the Bristol Business School in partnership with ACCA, Bristol City Council, Bristol Junior Chamber, Bristol Law Society, Bristol Media, Business Leader, Business West, CBI, CIPD, CIPFA, CMI, FSB, IoD, ICAEW and the West of England Combined Authority.
Following the talk, there will be an opportunity for the audience to put forward their issues and questions at this event.
Series organiser, Professor Nicholas O'Regan says, "We are delighted to announce that the series is now CPD accredited. The series is an excellent opportunity for members of the business community in Bristol, as well as our own students, alumni and staff to hear directly from inspirational figures in industry with a wealth of strategic experience and leadership skills at the highest level."
Find podcasts, video interviews, photos galleries and media coverage from past Bristol Distinguished Address Series events. Follow the discussion on Twitter using the hashtag #BristolLectures
*For delegates who wish to obtain a CPD Certificate of Attendance, it is the responsibility of delegates to register their details with a member of the events team at the end of the event.