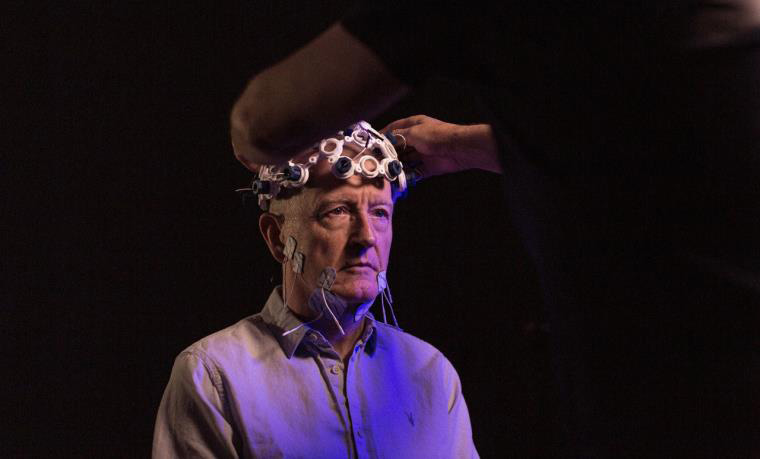 Emotion recognition is the process of identifying human emotion. People vary widely in their accuracy at recognising the emotions of others. Emotion tracking using technology is a nascent research area with enormous potential.
Rod Dickinson, Senior Lecturer in Digital Media at UWE Bristol, and Brain Computer Interface (BCI) researcher Nathan Semertzidis of Monash University in Melbourne, Australia, worked together to create an extraordinary new artwork and technology experiment, 'Machine_in_the_middle', starring World Snooker Champion Steve Davis.
Davis was famous for his deadpan demeanour, never openly expressing any emotion during snooker tournaments and thus earning himself the nickname 'The Romford Robot'.
In 'Machine_in_the_middle', Dickinson and Semertzidis use a BCI headset to stream Davis' EEG (brainwaves) to an AI that assesses Davis' emotional state, and then, using Electrical Muscle Stimulation (EMS) the machine animates his face into the expression that it thinks he is experiencing.
Dickinson and Semertzidis' artwork is based on a well-known type of cyber-attack known as a 'machine (or man) in the middle' attack. Usually a "machine (or man)-in-the-middle" attack involves an attacker who secretly intercepts the electronic communication between two parties.
In this case the two parties are the brain and the body of a single person, Steve Davis, and the ''machine-in-the-middle', is the system controlling the communication between Davis' brain and his facial expression.
Rod Dickinson said: "The technology physically manipulates his facial features so it matches the emotion he is experiencing – in effect forcing him so show his emotions."
The film of Davis was launched at the 'Decoding Humans: The Quantification of Emotions' seminar on 30 June.