Digital fitness service to encourage people in under-represented groups to increase exercise
See all news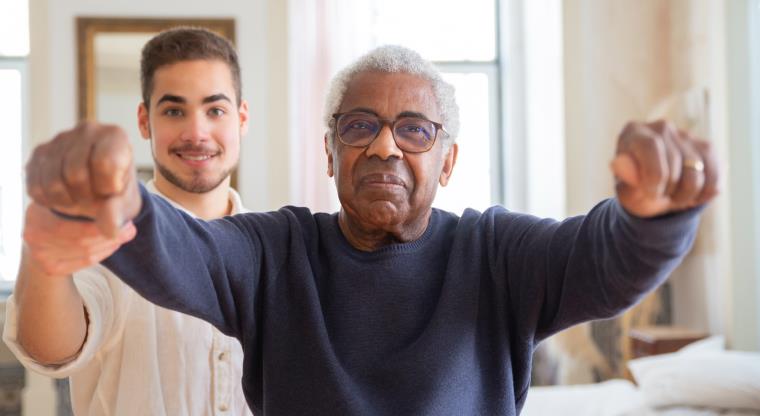 UWE Bristol is partnering with start-up Tendertec on a £1.8m UK Research and Innovation (UKRI)-funded project to encourage sustainable physical activity for under-represented groups currently not engaging with the digital fitness market.
The new digital fitness support service, known as FitBees, will combine Tendertec's connected care platform, home sensors and wearable technologies with motivational encouragement and community connections to support activity.
Tendertec, the AI start-up behind the connected care platform Hestia, which enables the remote monitoring of daily living activities of people with carers, announced today that it had secured a grant from UKRI as part of the Healthy Ageing Challenge.
The funding will be used to support the development of FitBees and has a strong user-centred design process to ensure that FitBees meets the needs of its customers.
Other partners in the project include learning disability charity Hft, technology enabled care provider Community Housing and KYMIRA, a company producing patented smart garments that provide biomechanical assessment of the lower extremities.
Today, more than 40 per cent of people aged 55 and over are inactive, costing the NHS almost £100m annually. During the COVID-19 pandemic lockdowns, one million more people became inactive. Inactivity is most acute across under-represented groups who are not engaging, physically or digitally with a market that focuses more on those who are already motivated to be active.
"We are pleased to be bringing our expertise in health technologies and smart sensor systems to this outstanding project, which will help increase physical activity among under-represented groups and reduce the burden on the NHS," said Dr Virginia Ruiz Garate, Associate Professor in Assistive Robotics at UWE Bristol, who worked on the project alongside co-investigators Dr Praveen Kumar, Senior Lecturer in Physiotherapy, and Dr Faatihah Niyi-Odumosu, Senior Lecturer in Applied Human Physiology, Faculty of Health and Applied Sciences. "Working closely with our talented consortium partners, we look forward to progressing with this project and co-designing a first-class digital fitness support service with users."
Dr Afroditi Konidari, CEO and Co-Founder at Tendertec, said: "We appreciate the trust UK Research and Innovation has put into our project, and we are honoured to be leading a consortium of partners that have the skills, experience and dedication to help under-represented groups overcome challenges to becoming more physically active. In the post-pandemic era, we need to find new ways to support people aged 55+, especially those feeling marginalised, to become and remain physically active and socially connected. We are working closely with our consortium to bring a game changing product into the digital fitness market".
The funding is part of the UKRI Healthy Ageing Challenge supporting the delivery of market innovations within the growing healthy ageing domain.