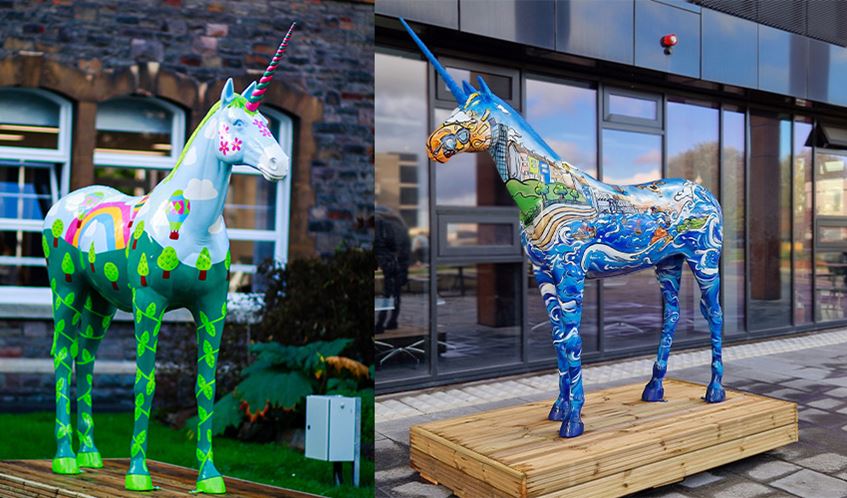 Two unicorn sculptures, which featured in a charity art trail, have new homes at UWE Bristol – one at Glenside campus and the other at Frenchay campus.
The unicorns – both designed by UWE Bristol graduates – were among 60 of the mythical creatures to be displayed in prominent locations and landmarks during the nine-week Unicornfest, before being sold at auction, raising £144,880 for Leukaemia Care.
Graphic design graduate and illustrator Chloe Tyler designed and decorated 'UWEcorn', named to reflect UWE Bristol sponsoring the sculpture during the trail. Her design, featuring the classic Bristol sight of hot air balloons, has taken pride of place at its new home at Glenside campus. In addition, 'The Great Wave of Bristol Harbour', by illustration graduate Conrico Steez has been installed at Frenchay.
Chloe said: "One of my favourite things about Bristol is that you don't have to travel far to reach some green spaces. My unicorn design was inspired by this, with a dreamy Bristol landscape scene and bright rainbows, swirling leaves climbing the legs, and hot air balloons. As a graduate of the university, it's amazing to hear the unicorn will be at UWE Bristol and I can't wait to see it in its new home."
Conrico's unicorn was influenced by his love of ukiyo-e (traditional Japanese woodblock) and how it has directed his practice and development as an illustrator over the years.
He added: "Within the commission brief for the Unicornfest project we were asked to reflect on parts of Bristol's history. So, I decided to intertwine the beautiful harbourside walks of the city I grew up in with the imagery of what influenced me to pursue a career in the arts, like Hokusai's 'Great Wave off Kanagawa' with my own little motifs and nods to Bristol's history in the design as a lifelong citizen of the city so far.
"I feel honoured to have my unicorn moved to a permanent home at UWE Bristol. It's nice to see it homed within a place I relished having the chance to study and develop myself as an artist, before taking my steps out into the professional world of creative industries. Knowing that I can always come back and find it in the place I studied as a young adult will be lovely in the future."
The Unicornfest was part of the 650th anniversary celebrations of Bristol achieving corporate county status in 1155 and sought to unite the business and creative sectors, as well as local communities and schools across the city and surrounding areas. There is also history between the city and unicorns with the mythical creature featured on the city seal, representing the idea of virtue.
You may also be interested in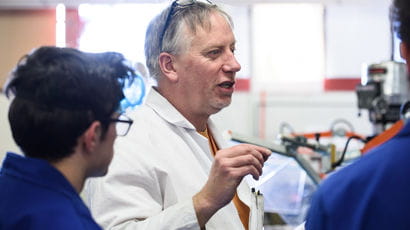 Media contacts are invited to check out the vast range of subjects where UWE Bristol can offer up expert commentary.