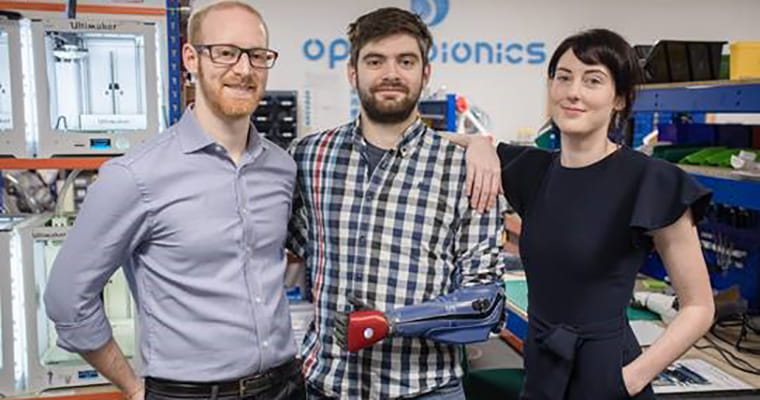 A startup developing bionic limbs in the style of superheroes for children and adults has successfully raised $5.9m (£4.6m) million from investors including F1's Williams Advanced Engineering Group.
Open Bionics, which developed in Bristol Robotics Laboratory (BRL), creates advanced multi-grip bionic hands called 'Hero Arms' for amputees. The company uses 3D technologies such as 3D scanning and 3D printing to radically reduce costs.
Open Bionics has achieved a price point that means their multi-grip bionic hand is the only advanced device affordable enough to be covered by national healthcare systems in major western markets such as the UK, France, Germany, and the USA.
The company launched private sales in May 2018 with the 'Hero Arm' already becoming the best-selling multi-grip bionic hand in the UK. Open Bionics has worked closely with the NHS for two years under a product development contract with the joint goal of being able to offer these life changing devices through clinics.
The team has already sold devices in France and Spain with goals to serve more European countries this year.
Open Bionics is the first company to create multi-grip bionic hands small enough to fit children as young as 9 years old.
The Hero Arm enables amputees to choose between different finger speeds and movements enabling the wearer to pick up small objects like marbles with a fine pinch to carrying shopping baskets with a full hand grasp.
Samantha Payne and Joel Gibbard, named by The Europas startup awards as the 'hottest founders' in Europe, founded the 'tech for good' company in 2014. The multi award-winning business developed its technology at BRL's Hardware Incubator before relocating to the neighbouring Future Space innovation centre at the University of the West of England's Frenchay campus.
Samantha Payne, co founder and COO, said: "This funding enables us to serve multiple international markets and we're thrilled to finally be able to deliver bionic hands to amputees and people with limb differences in the USA later this year. We're exceptionally excited to receive this support from such high calibre investors who not only offer financial backing but incredible experience in commercialisation, measuring impact, and engineering high performance hardware."
Joel Gibbard, co founder and CEO, said: "This investment provides crucial capital to help Open Bionics deliver on its vision of making advanced prostheses available to a much wider audience of limb-different users. We look forward to offering the Hero Arm in multiple international markets and continuing the development of great products that solve challenges within mobility and independence."
Open Bionics has won awards for engineering and innovation including the £1 million prize for the AI and Robotics for Good award, the James Dyson award for engineering, and two British Engineering Excellence awards. The company also secured multiple licensing agreements from entertainment creators Eidos Montreal and The Walt Disney Company to create bionic limbs inspired by their most popular characters.
Matthew Burke, Head of Technology Ventures, Williams Advanced Engineering, said: "Williams Advanced Engineering is excited to work with the team at Open Bionics and share our expertise in product development systems. Alongside the Fund's investment, Open Bionics will benefit from the engineering and technology experience at Williams and the investment management and growth experience of Foresight's team of investment professionals. Together this aims to be an ideal combination to deliver for the sector, its customers and the wider UK economy."