Mock courtrooms and virtual law offices at UWE Bristol
Want to graduate confident you'll be properly prepared for legal practice? The Bristol Law School is waiting. Fantastic facilities like our mock courtrooms bring learning to life, so you can test and polish the skills you're developing in a practical setting.
Avon and Somerset Constabulary offer mock trials in the courtroom with the aim to convincing teens not to carry a knife with a real life judge taking the role of the Judge (reported for Radio 4 Today programme, September 2019).
Mock courtrooms – that test you for real
Our mock courtroom is a replica of a working court room – with a judge's bench, tables for the counsel and a witness box.
This immersive learning experience is so real the Civil Justice Centre have used our spaces for employment tribunals – with real-life judges sitting cases.
The western circuit also uses our courtroom to train judges – members of the bar, senior members of the bar and judges use the courtroom to judge mooting/advocacy competitions offered to students.
Students from the UWE Law Society can book them when running moots or doing mock court demonstrations.
Did you know? The courtrooms are equipped with the latest recording equipment to record the advocacy sessions for later analysis.
Take a tour of our mock courtrooms
Take a look at our mock courtrooms by viewing our 360° images below. Move around the space by using the controls or your cursor to explore the images. You can also expand to full screen using the icon on the bottom left of the images.
Virtual law office
Simulations in Transactional Activities (SIMITA) is an online interactive learning environment where you can:
Build case working skills.
Use technology that behaves like a modern law office.
Seek tutor and peer feedback on skills development.
Share and access links to academic, legal and student-produced resources.
You may also be interested in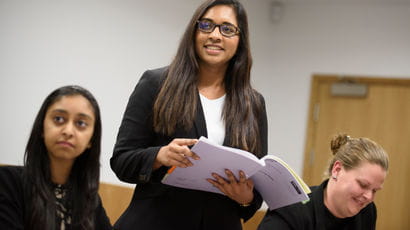 At UWE Bristol we provide law students with an opportunity for traditional learning, along with practical application in our mock courtrooms, applying theory to practice. Our Bristol Law School is an established provider of legal education offering undergraduate, postgraduate, foundation and professional development courses in a range of disciplines, so you'll be in safe hands.