Explore first-rate facilities where you can create playable scenarios, consolidating new concepts and applications.
What's waiting for you?
The School of Computing and Creative Technologies gives you access to an industry-standard games studio packed with amazing kit. Here you can set your imagination free with:
PC labs just for students in the School of Computing and Creative Technologies
Explore artificial intelligence, 3D environments, virtual reality (VR) and effective software design for games.
As a PlayStation®First partner, at UWE Bristol you'll gain direct experience of developing for Sony PlayStation using their official development kits.
A community connected with industry
We regularly welcome visiting industry professionals to share their expertise. There are also thriving student societies, inspiring industry events and the latest gaming technology, so you will have all you need to work on games technology.
Extra digital and shared facilities
We won't limit the possibilities of your creativity to the computing suites – though these are well-resourced and impressive:
Access to the industry standard equipment you'll need to succeed, including well equipped learning spaces and specialist computing laboratories.
Access award-winning video and sound recording studios and post-production facilities and network with the creative postgraduate students who share them.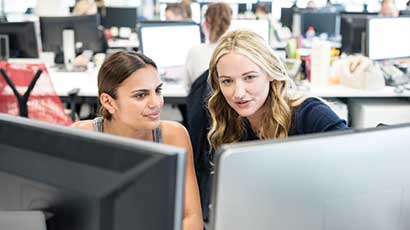 Our Computer Science and Creative Technologies courses include: Applied Computing, Games Technology, Software Engineering for Business and more.