Geography and Environmental Management facilities
First-class facilities provide well-equipped inspiring spaces where you can study, learn and collaborate.
Take a tour of our Geography, Planning and the Environment facilities
Immerse yourself in our Geography, Planning and the Environment facilities by viewing our 360° images below. Move between different rooms and spaces by using the arrows or menu bar on the top left, and use the controls or your cursor to explore the images. You can also expand to full screen using the icon on the bottom left of the images.
Specialist facilities
Our facilities include:
Specialist laboratories for earth sciences, environmental change, surveying and spatial analysis. Each laboratory contains modern equipment and facilities allowing our students to test water quality and soil mechanics, investigate historic environments, carry out level surveys and much more.
A wide range of specialist fieldwork equipment, both for field trips with our staff and performing your own personal research.
The Hive - social learning areas that provide a mix of computer stations, flexible desk-space, and dedicated group-work booths and rooms.
Computer laboratories equipped with the latest professional software, including Geographic Information Systems (GIS). GIS combines, collects, stores, analyses and presents geographical data. View the latest GIS work by third year students.
Free access to the latest professional software on your own computer.
Video and editing facilities, sound recording facilities and a photographic and digital imaging service. A graphics service offering industry-standard equipment and software for producing research publications, displays, illustrations and posters.
IT support, both for using the university's facilities and for using university-licensed software on your own computer.
Technology-assisted learning
Make use of a virtual learning environment, linked to UWE Bristol's library. Online resources include podcasts, discussion boards, interactive polling and video capture. All designed to encourage flexible, self-paced independent learning as well as excellent support for distance learning courses.
Library resources
Frenchay Campus library has a huge range of resources.
We also have online library resources for Geography and Environmental Management, and Environmental Health.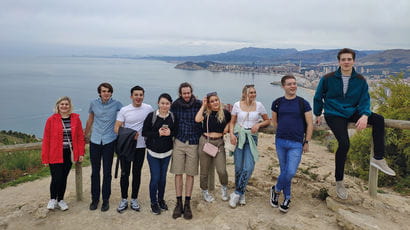 Our courses include: Geography (human and physical), Civil and Environmental Engineering, Geology, Uniformed and Public Services, Urban Planning (MSc/PGDip) and more.