Construction, Property and Surveying facilities
Lay the foundations for a successful career in construction, real estate or surveying, learning from experienced, passionate professionals and getting to grips with all the latest industry-standard equipment.
Take a tour of our Construction, Property and Surveying facilities
Immerse yourself in our Construction, Property and Surveying facilities by viewing our 360° images below. Move between different rooms and spaces by using the arrows or menu bar on the top left, and use the controls or your cursor to explore the images. You can also expand to full screen using the icon on the bottom left of the images.
What's waiting for you?
Specialist surveying and construction facilities
Develop and hone your practical skills - with the support of experts in our surveying technology laboratory.
Find all the technology and tools used in industry - including industry-standard Leica Total Stations and Automatic Levels.
Focus in our dedicated project room - find space to work, materials, computers and printing equipment.
Use the concrete and environmental services laboratory - get to grips with some of the most up-to-date electronic test equipment for fault detection in concrete structures.
Try the 250-tonne frame press for destructive testing.
We also have a hydraulics testing facility with a variety of apparatus for the study of fluid mechanics, including a re-circulating flume.
Good to know: The Department of Architecture and the Built Environment also houses an open learning area, where you can use and loan equipment, including interactive whiteboards, scanners and digital cameras.
Online, in the library and to share
Computer labs – including 24/7 access, loanable laptops and bookable PC.
Frenchay Campus library is open 24 hours a day with dedicated resources for construction and property and surveying.
Hive social learning areas provide a mix of computer stations, flexible desk space, and dedicated group work booths and rooms.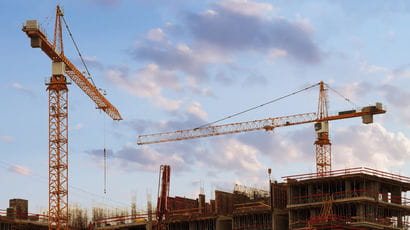 Our courses include: Property Development and Planning, Building Surveying, Quantity Surveying and Commercial Management, Real Estate, Building Services Engineering, Construction Project Management and more.