Xavier Brice, Chief Executive, Sustrans - 26 February 2020
Xavier Brice, Chief Executive, Sustrans, delivered a Bristol Distinguished Address Series lecture entitled "Living and moving well together".
Living and moving well together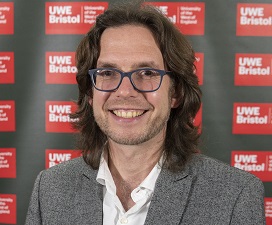 In his lecture, Xavier discussed how new technologies and business models are bringing electric vehicles, driverless cars, e-scooters, drones and air-taxis, and promising quicker, easier journeys, cleaner air and less carbon.
Although Xavier acknowledges that some of these technologies and models can create positive change, on their own they will not change the face of transportation and some come a little too late to make a difference to climate change.
Xavier explained how Sustrans has developed five principles to underpin a liveable town or city for everyone, all rooted in the relationship between people, place and movement.
Social connection: We need public transport and we need to plan for walkable distances and create walkable places, where we mix and mingle.
Move around healthily: This is about ensuring that people can get around safely, easily and healthily. The healthiest way to do that is by walking.
Has roots and celebrates its unique character: Places that celebrate their unique character at a human-scale invite people in and around them... they come alive through being populated with people.
Has clean air and green space for all: Providing green space in and next-to towns and cities cuts down the need to travel further afield, and makes it easier to access.
A short walk away: A liveable city or town for everyone should have most of what you need just a short walk away.
In conclusion, Xavier suggested that people need to rethink what they want from transport so that we can all "live and move well together."
Podcast (with slides)
Listen to Xavier's talk alongside his presentation.
Exclusive pre-address interview
Watch Xavier's pre-address interview.