Warren East CBE - 30 January 2019
Warren East CBE, Chief Executive Officer of Rolls-Royce, gave a lecture on "How can the UK be a natural home for global engineering and technology champions?".
How can the UK be a natural home for global engineering and technology champions?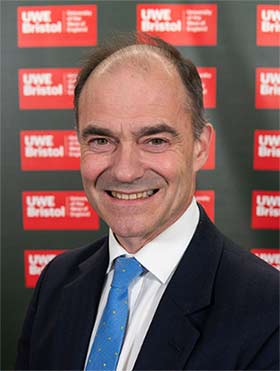 Warren talked about how engineers need to find creative ways to sustain business, lifestyles and our planet as the UK has signed up to reduce carbon emissions by 34% by 2020. The big global challenges ahead are: health, food and water, energy, poverty and inequality.
Warren then talked about how engineering is about taming science and nature for the benefit of society as "nature is the best engineer and sets the bar." He explained this takes effort and investment and so excellent engineering also has to make good business sense in order to generate the funds for that investment. Warren explained that the science and academic sector feeds the engineering and industry, and that wealth generation enables science and engineering to deliver more than direct benefits to society. He stressed that investment is not for the fainthearted though, as many projects go over budget, for example; Concorde.
Warren explained that although there is a perception that the UK (and Europe) has lost its way in the face of large scale competition from Asia and the US over recent decades, now is an exciting time for engineering and technology generally as we grapple with the big challenges flowing from global population growth. He stressed that manufacturing is and will continue to be a crucial component of the UK economy. In fact, the UK punches above its weight in the science and technology industry. This comes at a time when new technologies are both broadening the scope of what we can do with engineering and changing the investment profiles required, creating new opportunities.
Warren concluded by saying a potential levelling of the playing field presents a great opportunity for UK (and European) engineering and technology businesses to reassert themselves on a global stage.
Podcast
Listen to Warren East's talk.
Listen to the talk on SoundCloud
You can also download the set of slides used in the presentation:
Exclusive pre-address interview
Watch Warren's pre-address interview. You can read a transcript of this interview on the Business West website.