Tony Hayward - 8 November 2017
Tony Hayward, Chairman of Glencore, delivered a Bristol Distinguished Address Series lecture entitled "The great energy revolution - fact or fiction".
The great energy revolution - fact or fiction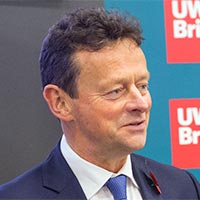 To a room full of inquisitive delegates, Tony began his address reflecting on when he started in the energy industry almost 35 years ago, and what has changed in that time.
Some people refer to the transition from fossil fuels to renewable forms of energy as an energy revolution, Tony questioned the significance of this change and what a different future might look like.
The UK aims to reduce carbon emissions by 80% by 2050. Tony discussed if this is achievable based on current energy projections and what challenges and opportunities lie ahead with Government pursuing renewable energy policies.
Tony finished his address by going back to the point he started with, suggesting we're not experiencing an energy revolution, it's an evolution that is proceeding at a slow place.
Podcast
Listen to Tony Hayward's talk.
Exclusive pre-address interview
Watch Andrew's pre-address interview below. You can find a transcript of this interview on the Business West website.