Sacha Romanovitch - 11 October 2017
Sacha Romanovitch, CEO of Grant Thornton UK LLP, delivered a Bristol Distinguished Address Series lecture entitled "Shaping a global economy where no one is left behind".
Shaping a global economy where no one is left behind – how we create a new normal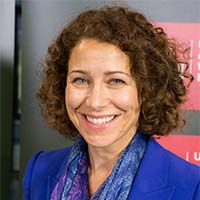 Sacha Romanovitch delivered the University's prestigious Annual Bolland Lecture, a passionate and thought provoking talk. Her presentation reflected on what makes a vibrant economy which includes having a shared purpose, communities responding together and collaboration.
Sacha discusses the concept of a 'new normal' and what this might involve - the value of a community, moving away from self-interest to a shared purpose, collaborating instead of competing.
She also discusses how leadership plays a key part in shaping a vibrant economy, promoting empowerment, trust and inclusion. She encourages the audience to always think about the voices that aren't in the room, believing in the people that work for you and inspiring them to unlock their potential.
She quotes "the world has changed and we must change with it" and to do this we must adopt a new mind set to create the 'new normal', where no one is left behind.
Podcast
Listen to Sacha Romanovitch's talk.
Exclusive pre-address interview
Watch Sacha's pre-address interview below. You can find a transcript of this interview on the Business West website.