Ruth Hunt - 13 February 2019
Ruth Hunt, Chief Executive of Stonewall delivered a lecture as part of the Bristol Distinguished Address Series entitled "Achieving social change".
Achieving social change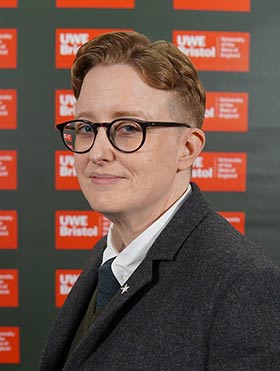 Ruth's lecture covered her personal journey and how it dovetails with the LGBT movement.
Ruth talked about how societies views on sex and the treatment of LGBT individuals has changed through the last century. Ruth explained Stonewall's assimilationist agenda and how they helped achieve the best legislation in the world by 2014, but, they had created a movement, that in Ruth's opinion, was preoccupied with their own individual rights.
Refocusing on her own life, Ruth explained that when you are told that "who you are and how you feel, is wrong, that leaves a mark and it takes a huge amount of resilience and resistance to counteract that narrative."
Ruth talked about how she thought employers would never want her because she was not like them and how young people are affected by this today, thinking they are "not the right fit and how we are all capable of ruling ourselves out of different options and opportunities in life."
Ruth explained how people tried to influence her look and how it took her a long time to articulate that authenticity is not just about being able to belong to your orientation but it's about where you feel good and how you feel good.
When Ruth took over as Chief Executive of Stonewall, she realised the existing assimilationist movement did not fully reflect people in the LGBT community and explained how she was determined to change this.
Firstly, Stonewall worked with employers and schools, run leadership, role model and empowerment programmes to try and change the way in which people do things. Secondly, they tried to change the stereotypes that people have about the LGBT community. Thirdly, there is a need to have uncomfortable conversations about mental health issues, racism and trans policy.
Finally, Ruth talked about three things she has learnt about leadership;
You have to be able to give people power to create change by thinking differently to each other.
You need to have people around you who challenge you and think differently otherwise attempts to achieve diversity will never happen.
And most importantly, do not mistake anger for change, be kind to each other.
Podcast
Listen to Ruth Hunt's talk.
Exclusive pre-address interview
Watch Ruth's pre-address interview below. You can read a transcript of the interview on the Business West website.