Kevin Ellis - 17 October 2018
Kevin Ellis, Chair and Senior Partner, PwC UK, gave a lecture on "The role of business in a disrupted world".
Why business needs to work harder to show its positive contribution to society
Kevin Ellis, Chair and Senior Partner, PwC UK, delivered a lecture as part of the Bristol Distinguished Address Series.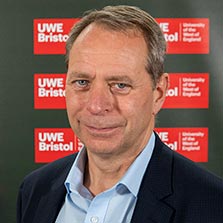 Kevin gave an insightful lecture about the 4th Industrial Revolution, looking at the huge changes that can be expected and the impact on the wider society.
Kevin began his talk asking what the 4th Revolution looks like, suggesting that 15-20% (7 million) of current jobs will be wiped out by Robotics and Artificial Intelligence, having a negative impact on business' relationship with society. Although it's not all negative, Kevin believes that, while 7 million jobs may be lost, the industry could see an increase of up to 7.2 million jobs. To reinforce this, Kevin explained that PwC already has Robotics, drone, AI and Blockchain teams – highlighting that these jobs already exist, but society isn't fully aware yet.
Kevin went on to explain how the revolution could be seen as a huge opportunity. With 18% of employees disengaged with their current jobs, the retraining and reskilling of these people could have a positive impact. Speaking about current graduates, who may have to work for a longer period, Kevin emphasised the need for advancements in technology to help people stay relevant, and for graduates to have an agile mind-set, as most people no longer have just one career.
Kevin also talked about the impact of the revolution on social mobility, stating that innovation increases with diversity, and decreases with sameness, and that people shouldn't be limited by opportunity of their birth postcode. Kevin suggested two things that businesses need to do to combat this:
Be more transparent – about what they deliver, offer and contribute.
Ensure those who benefit share the story.
Kevin explained that PwC has launched five technology degrees with apprenticeship schemes with 111 people enrolled. The aim is to improve social mobility and to get more females (currently 30%) into the sector. They have also launched The Tech She Can® Charter which is a commitment by organisations to work together to increase the number of women working in technology roles in the UK.
Kevin concluded his talk by emphasising that the revolution is inevitable, that businesses need to start acting now and they need to be transparent in every way in order to bring about change and they must tell a better story about social mobility. Kevin stressed the need to change the lexicon, it's not about jobs being lost, it's about the retraining and reskilling people.
Podcast
Listen to Kevin Ellis's talk.
Exclusive pre-address interview
Watch Kevin's pre-address interview below. You can find a transcript of this interview on the Business West website.