Juliet Davenport OBE - 25 October 2017
Juliet Davenport OBE, CEO and Founder of Good Energy, delivered a Bristol Distinguished Address Series lecture entitled "Science, climate and politics: the perilous path to decarbonisation".
Science, climate and politics: the perilous path to decarbonisation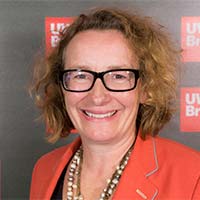 Juliet provided a fantastic talk on science, climate and politics. In this lecture, Juliet covered the approaches that are being put in place for a greener future.
We are seeing dramatic increase in global temperatures as a result of climate change and Juliet believes that this is one of the biggest challenges societies face today. Juliet explained why we need to respond to this by changing the way energy is supplied to homes and businesses, and how we need to work with customers to become part of the solution and not the problem.
In her talk, Juliet described the traditional model of energy supply, that is centrally controlled is outdated and explained that we are moving to inter-connected power, what will become a shared economy, where you or your neighbour will be generating and sharing power.
Juliet argued that the most important value of Good Energy's is to be determined, not only to run a company in a challenging market, but to try to change the market. Also to be straightforward, making something complex simple, to ensure people can help you achieve what you're trying to do.
Podcast
Listen to Juliet Davenport's talk.
Exclusive pre-address interview
Watch Juliet's pre-address interview below. You can find a transcript of this interview on the Business West website.
You can download the following regional press article that covered Juliet's address: