John Allan CBE - 16 January 2019
John Allan CBE, President of the CBI and Chair of Tesco plc and Barratt Developments plc delivered a lecture as part of the Bristol Distinguished Address Series entitled "Britain – what does the future hold?".
Britain – what does the future hold?
John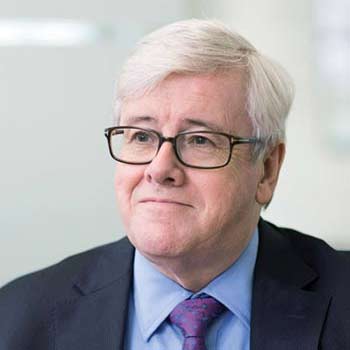 began his very insightful talk with his views on a very topical subject, Brexit. He says that a no-deal Brexit will be seriously damaging to the UK economy and our trade, with a risk to jobs. He says that the Government needs to consult widely across all parties, be open-minded and prepared to listen to lead the country to find a solution that will be acceptable to Parliament, the British people and the EU.
Looking beyond Brexit, John discusses the impacts of changing consumers behaviours to the food and retail industry, with an increased focus on the environment and sustainability, as well as the effects of global changes, such as the growing population of Africa.
John shaped the remainder of his talk looking at other topics regarding the future of Britain. He focuses on three predictions: technology and its impact, skills, and the economy. Reflecting on technology changes since the 90s, John acknowledges the cost of underestimating, or overestimating, the pace of change of technology, and the benefits of getting it right. Moving on to skills, John spoke about what must happen in a technologically changed world to human skills, and the role of schools, colleges and universities in preparing young people for a changing economy.
Finishing by talking about the future of the country's economy, John discussed the unprecedented and unparalleled change in our journey from being a predominantly manufacturing economy to a predominantly service based economy, and the economic opportunities this can bring.
Podcast
Listen to John Allan's talk.
Exclusive pre-address interview
Watch John's pre-address interview. You can read a transcript of this interview on the Business West website.