Fred Jones – 22 March 2017
Fred Jones, Head of Cities at Uber, delivered a Bristol Distinguished Address Series lecture entitled "More people in fewer cars".
More people in fewer cars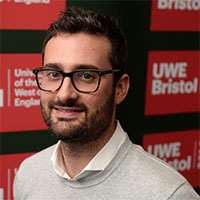 Fred Jones outlined how Uber's mission to have 'transport as reliable as running water to everyone everywhere' was bringing the future of urban mobility to cities faster.~
He explained that Uber are working on reducing congestion, pollution and the amount of land used for parking facilities through a number of initiatives worldwide.
Fred added that Uber are working with local authorities to provide more accessibility services, as well as providing data to city planners to develop transport policies and future planning. Fred concluded that their data can be used to see where the sharp breaking areas are, as well as pot holes in the road.
Podcast
Listen to Fred Jones's talk.
Exclusive pre-address interview
Watch Fred's pre-address interview. You can find a transcript of this interview on the Business West website.