Bevis Watts, Chief Executive, Triodos Bank UK - 29 January 2020
Dr Bevis Watts, Chief Executive of Triodos Bank UK, delivered a Bristol Distinguished Address Series lecture entitled "Bankers must become eco-warriors".
Bankers must become eco-warriors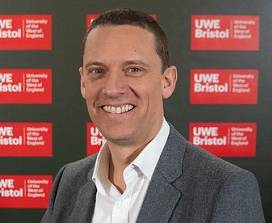 Bevis delivered a lecture reflecting on sustainability and ethical banking, addressing important questions such as whether banks could serve the needs of society better, and whether they are undermining our long-term ability to sustain ourselves by not actively seeking to address the climate emergency, inequality and societal needs.
Perhaps the first and only environmentalist to lead a UK bank, Dr Bevis Watts presented the case that much of the financial sector is undermining efforts to tackle these issues. In fact, the UK's current banking system holds the potential, through adaptation, to be a catalyst for a sustainable future.
For 25 years in the UK, Triodos Bank has demonstrated a model of sustainable banking that uses the intermediary power of finance to benefit people and the planet. They are also 100% transparent about who they lend to - focusing only on organisations that deliver positive environmental, social or cultural change.
Bevis argued that with the right values, banks can be a force for good and affect real positive systemic change in society.
Podcast
Listen to Dr Bevis Watt's talk.
Exclusive pre-address interview
Watch Bevis's pre-address interview below. A transcript of this interview can also be found on the Business West website.