Healthy Cities Resource Hub
Resource page to support WHO's work on healthy cities, promotion of the key principles of phase VII, dissemination of research, policy briefs and good practice supporting healthy, sustainable urban environments.
Key texts
Implementation framework for Phase VII (2019–2024) of the WHO European Healthy Cities Network: Goals, requirements and strategic approaches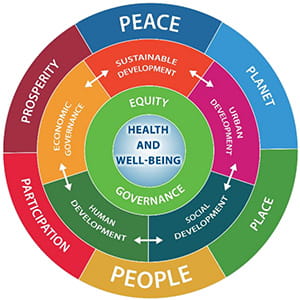 To address a changing health landscape, in September 2012, countries of the WHO European Region agreed on Health 2020, a new common European policy framework for health and well-being now being implemented across the Region. The Network was a strategic vehicle for implementing Health 2020 at the local level in Phase VI.
The Healthy Cities Vision encompasses the six Ps (as depicted in the diagram on the right): People, Participation, Prosperity, Peace, Planet and Place.
The Implementation Framework for Phase VII document outlines the overall goals and development themes of Phase VII (2019–2024) of the WHO European Healthy Cities Network and explains the application process for cities and national networks interested in joining this Network. View or download the Implementation Framework for Phase VII document (PDF) for more information.
By Adam Sheppard, Deborah Peel, Heather Ritchie and Sophie Berry
This comprehensive yet concise textbook is the first to provide a focused, subject specific guide to planning practice and law. Giving students essential background and contextual information to planning's statutory basis, the information is supported by practical and applied discussion to help students understand planning in the real world. The book is written in an accessible style, enabling students with little or no planning law knowledge to engage in the subject and develop the necessary level of understanding required for both professionally accredited and non-accredited courses in built environment subjects. The book will be of value to students on a range of built environment courses, particularly urban planning, architecture, environmental management and property-related programmes, as well as law and practice-orientated modules. See more at the Essential Guide to Planning Law.
Hugh Barton, Routledge – Abingdon and New York
City of well-being introduces the science, the art and the philosophy of planning. It advocates a return to the roots of modern planning, re-inventing it for the twenty-first century. To the dire health consequences of rapid urbanization and industrialization (experienced in many developing cities) are added the post-industrial 'diseases' of unhealthy lifestyles, obesity, increased inequality and mental illness. Over everything is the massive global crisis of climate change. Urban planning is implicated in all these issues.
This book puts human well-being and planetary health at the centre of its concerns. It should be read by all those making or influencing key decisions about the future of our environment – the investors, the politicians, their professional advisors – and members of civil society who want to understand and promote well-being.
Barton, H., Thompson, S., Burgess, S. and Grant, M. (2015) The Routledge Handbook of Planning for Health and Well-Being. Routledge. ISBN 9781138023307
The handbook is edited by present and past WHO Collaborating Centre staff in collaboration with Susan Thompson, Professor of Planning and Director - Healthy Built Environments Program, University of New South Wales.
Edited by Danielle Sinnett, Nick Smith and Sarah Burgess, UWE Bristol
Green infrastructure is widely recognised as a valuable resource in our towns and cities and it is therefore crucial to understand, create, protect and manage this resource. Edited by members of the WHO Collaborating Centre, this Handbook sets the context for green infrastructure as a means to make urban environments more resilient, sustainable, liveable and equitable. It then provides a comprehensive and authoritative account for those seeking to achieve sustainable green infrastructure in urban environments of how to plan, design and implement green infrastructure at different spatial scales.
by Hugh Barton and C Tsourou
Many people have contributed their ideas to this book, published jointly by WHO and Spon Press. This book was adopted by the European cities and subsequently by Healthy City networks around the World. It has been translated into five languages.
You may also be interested in
WHO Collaborating Centre at UWE Bristol is a recognised leader in the emerging field of healthy urban planning.
Contact details for the WHO Collaborating Centre for Healthy Urban Environments.