Jon Parker
Visiting Professor profile, Centre for Transport and Society (CTS).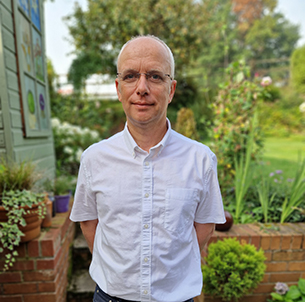 Jon is a trusted voice and pioneering mind in the UK's transport network. Responsible for leading several nationally significant transport research studies and award-winning delivery programmes, Jon combines his passion for collaborative research with commercial experience to shape fresh thinking in the transport planning sector.
As a director of sustainable transport consultancy, ITP, his expertise in overseeing creative and innovative sustainable transport and behaviour change programmes has seen him author strategies and policies that have become the benchmark for transport planning across the UK. He was awarded the accolade of the UK's 'smarter travel professional of the year' in 2015.
Jon has a long-standing relationship with the Centre for Transport and Society (CTS), having delivered guest lectures and served as Visiting Research Fellow between 2017 and 2023, before his current role as Visiting Professor. He has delivered successful consultancy and research projects with other CTS staff members (for example, DfT Making Personal Travel Planning Work, Midlands Connect Technology Road Map and DfT Better Bus Area Evaluation).
He has led some of the most pioneering 'smarter choices' research and evaluation projects, including: Department for Transport (DfT) 'Making Personal Travel Planning Work', DfT 'Making Car Sharing and Car Clubs Work', DfT research into the training requirements for travel plan coordinators, DfT research into the effectiveness of 'Better Use' measures, DfT evaluation of travelling to school initiative, Transport for London (TfL) research into the application of personal travel planning techniques in the workplace, TfL school travel plan data validation, TfL workplace car sharing schemes and Scottish Government Smarter Choices Smarter Places Evaluation. He is the lead author of DfT national best practice guidance in the fields of car sharing, car clubs and personal travel planning, and was a steering group member and expert advisor to the DfT guidance 'Delivering travel plans through the planning process'.
He was an externally invited advisor to the DfT sustainable travel towns programme, is an elected Council member, and Fellow, of the Chartered Institution of Highways and Transportation (CIHT), and is a regular speaker at conferences. He is appointed to represent CIHT on the Advisory Board of the DfT Bus Centre of Excellence, and is the independently appointed Chair of the Nottingham Bus Partnership.
He was the Chair of a specially convened working group to examine issues surrounding personal travel planning evaluation techniques, and chaired the ministerial task force on the future direction of car clubs. He has developed strategic smarter choices delivery programmes and written successful major bids for funding such programmes, and led the evaluation of Local Sustainable Transport Fund/Better Bus Areas funded programmes in Leicestershire, Leicester, Hampshire, Milton Keynes, West Midlands, Nottingham and Gloucestershire.
Jon's wider experience includes the management of integrated land-use and transport planning studies, accessibility assessments, the preparation of transport assessments, development and delivery of intelligent transport systems, intelligent mobility, transport modelling and public transport planning/strategy development. He has written award winning Local Transport Plans, and contributed as an 'expert witness' at planning inquiries/public examinations, and was the lead transport advisor to the Black Country Authorities at the Examination in Public of the Joint Core Strategy. He authored the first 'Network Resilience Strategy for the West Midlands' on behalf of Transport for West Midlands, is the project assurance advisor on the TDM programme for Hinckley Point C, and is currently chairing a task and finish group on behalf of CIHT into the application of Artificial Intelligence (AI) in the transport sector.
Outside of work, Jon spends time with his family, is a keen golfer, and supports Wolverhampton Wanderers.
You may also be interested in
People at the Centre for Transport and Society.
Current news from CTS members and their activities.