Shaping sustainable suburbs
Suburbs account for a huge proportion of homes, but until recently their relationship with the environment had attracted little research. A team at UWE Bristol have taken an in-depth look at the risks suburbs face, joining forces with residents to test ideas and create change.
Collaborating to make a difference
With over 22 million homes, suburbia has long been the location of choice for many British families. But the vast majority of these urban areas simply are not designed to cope with the challenges of our changing world. Not only are they at risk from the effects of climate change, they actually contribute to it. And despite suburbs accounting for such a huge proportion of our homes, there's been surprisingly little research into how they will fare in the years to come.
"National projections tell us that there will be a 3-fold increase in heat-related deaths by 2050," says Professor Katie Williams. "In many suburban areas, 100% of homes will overheat. It's an issue we really need to get on top of." That's where a collaborative team from UWE Bristol, Oxford Brookes University and Heriot-Watt University sought to make a difference.
Working with local communities
Professor Williams and her team of researchers started by taking an in-depth look at the risks that suburbs face. They focused on what was needed to make these neighbourhoods liveable, joining forces with local residents to test out a host of ideas, including using shading from greenery to prevent overheating, and new types of drainage to prevent flooding.
"Suburbs provide a great opportunity to include green space, water features, food growing and even energy production – when you look at them like that they become really exciting places to try to make positive changes." said Professor Williams.
The team also looked at how to motivate people living in the suburbs to adapt their homes and gardens. "People are more motivated by shorter-term goals such as saving money, changing the image of their home and essential maintenance. Estate agents, providers of DIY products and builders can all play a key role in helping them work towards longer-term goals."
From local research to national influence
In order to create real change throughout the UK, the team knew that they'd need to shape policy at a local and national level. They've now used their research to improve many ministers' understanding of climate risks, influence the Government's Green Deal programme and help local authorities across the UK plan for climate change.
"When I look at suburbs, I know that the research we have done has helped policy makers understand how to adapt homes, streets and open spaces in the future – it's great to make that sort of difference" said Professor Williams.
Contribution to the UN 2030 sustainable development goals
UWE Bristol is proud to align our research to the UN sustainable development goals. The above research aligns with the following goals:
Breaking research boundaries
We're tackling the big issues of today and tomorrow head on. This is big, brave thinking for a better future.  It's research done well. Research with the power to transform lives, transform the future.  
Breaking research boundaries
You may also be interested in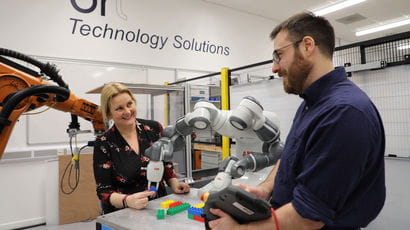 The College of Arts, Technology and Environment (CATE) has a well-established and continuously developing research environment.