Developing better oral care applications
UWE Bristol-led collaborations with global healthcare and tech leaders are helping to improve treatment outcomes for oral care, thanks to improved and novel products.
Nearly a third of the world's population is affected by halitosis, or unpleasant breath odour, caused by volatile organic compounds (VOCs), 90% of which originate from bacteria in the mouth. As well as reducing people's self-confidence and negatively impacting social stigma, the condition can be an indicator for diseases such as cancer, rheumatoid arthritis and diabetes.
Through a series of clinical and product trials, oral microbiologist Dr Saliha Saad and her team from UWE Bristol were able to identify more effective ways of diagnosing and controlling the condition. Dentists, physicians, microbiologists and maxillofacial surgeons across the UK, Europe and the USA attended the organoleptic judge course at UWE lead by Dr Saad. Many applied Dr Saad's recommendations in clinical settings, reporting significant improvements in the quality of life of their patients thanks to more accurate diagnoses and effective treatments.
Oral technologies refreshed by evidence
The team initially developed an in-vitro biofilm model using oral culture samples obtained from individuals with oral malodour, which has been used to track the efficacy of various oral care formulations on oral malodour levels.
Their studies on the tongue microbiota revealed a direct relationship between the numbers of microbes and the strength of oral malodour, revealing the precise degree to which the bacteria count needs to be reduced for lasting clean breath.
With funding and collaborative support from Philips Research Laboratories, the team used their findings to develop a new sonic tongue-brushing technology, which was tested and launched in 2016 within a record three-year turnaround. TongueCare+ is now retailed worldwide, with first year sales estimated at more than 25 million euros.
UWE Bristol's research also inspired Colgate-Palmolive to reformulate their best-selling toothpaste Colgate Total, based on findings that Dual Zinc plus Arginine is a more effective antimicrobial odour-neutralising agent. Relaunched in 2019, Colgate Total, which represents approximately $1bn of annual revenue for Colgate Palmolive, now claims to provide both short and long-term improvements in breath quality.
In further collaborations with Colgate-Palmolive, the technology company Aryballe and CEMAG Care used Dr Saad's research to repurpose a bio-optic smell sensor to healthcare via robust validation and identifying unique features for oral care applications. Originally intended for detecting smoke fumes and for assessing food quality, the NeOse Pro is becoming a diagnostic tool for halitosis. The NeOse Pro is also being tested at UWE for the rapid and non-invasive detection of early stages of diabetic foot ulcers and periodontal disease, in order to reduce the high morbidity and cost of treatments associated with these complications.
Contribution to the UN 2030 sustainable development goals
UWE Bristol is proud to align our research to the UN sustainable development goals. The above research aligns with the following goals:
Breaking research boundaries
We're tackling the big issues of today and tomorrow head on. This is big, brave thinking for a better future.  It's research done well. Research with the power to transform lives, transform the future.  
Breaking research boundaries
You may also be interested in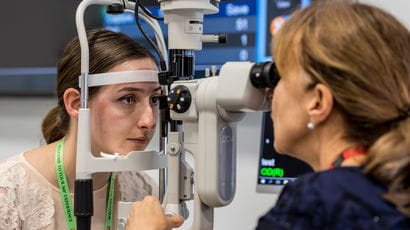 Research centres and institutes in the College of Health, Science and Society at UWE Bristol. Find out what areas of research they focus on and much more.