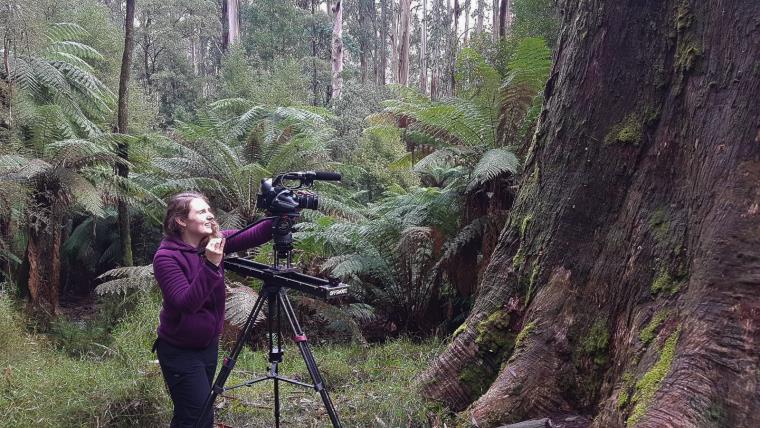 Three MA Wildlife Filmmaking alumni from the University of the West of England (UWE Bristol) have won awards for their films at Jackson Wild, a world-renowned international wildlife film festival taking place at Jackson Hole in Wyoming.
Nardine Groch (pictured) won the best Animal Behaviour category (short form) with her film The Great Pretender, referring to the name given to a bird called the Suberb Lyrebird. In this story, the bird struggles to win a mate using a fascinating display of song and dance – despite missing an all-important display feather.
A Voice Above Nature by UWE Bristol graduate Annie Moir won in the Festival's Best Student and Emerging Film category, which assesses films by current students or graduates who completed their course in the last two years. Through her film, we learn about the humpback whales' underwater songs and how our noise pollution is impacting this species.
MA Wildlife Filmmaking graduate Lindsey Parietti won in the Best Impact (short form) category with her film Blood Island. Last year the documentary also won her a Student BAFTA. The film takes us to an island in Liberia, introducing us to chimpanzees that underwent medical testing in the 1970s used to develop a vaccine against hepatitis. The documentary tells the story of the chimpanzees, their captors and the people still fighting to save them.
Peter Venn, who is Programme Leader of the MA Wildlife Film, said: "Winning at Jackson is a great result for these new filmmakers and for the University as it's a major festival in the wildlife industry's calendar. This result will really help them to establish success in the wildlife filmmaking industry.
"Although our MA in Wildlife Filmmaking has been fortunate to have previous nominations at Jackson, this is the first time we have had wins and we are especially proud to have achieved a hat trick. These three all thoroughly deserve the accolade – they worked intensively to learn new skills and produced films that offer a fascinating insight into the natural world."