UWE partners with Stornaway to teach interactive filmmaking using ground-breaking storytelling platform
See all news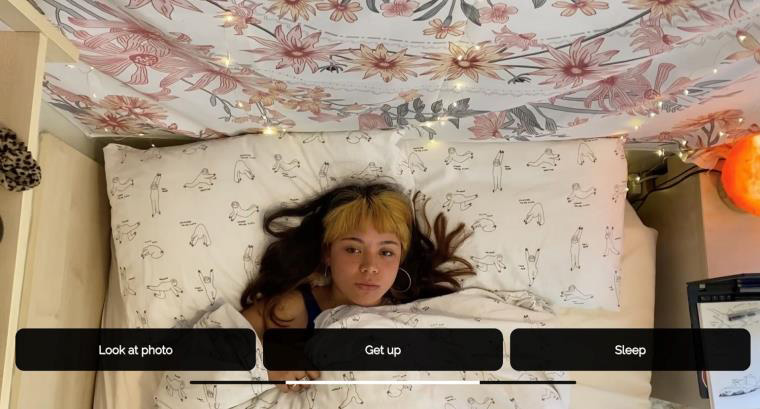 The University of the West of England has partnered with the interactive filmmaking platform Stornaway.io to introduce its filmmaking and animation students to interactive film production. This collaboration with the Bristol-based startup Stornaway.io has been especially welcomed during the pandemic, enabling students to collaborate on this exciting new format from the comfort of their own rooms.
First year students on the UWE Bristol Filmmaking degree, Kate Moody, Felix Hodgson and Louis Barron-Forde, used Stornaway.io to make short film "Lost and Found". The film is a beautiful experimental exploration of memory and has recently been selected to be shown in the Immersive section of Encounters Film Festival this month.
Stornaway.io founder Ru Howe said: "I was so impressed with what these first-year film students were able to create despite all the constraints of the pandemic and it was really exciting to see them using Stornaway's concept of Story Islands as a way of working together."
Stornaway.io, launched in May 2020 and is being used by TV and film companies developing ideas to meet the increased demand for interactive video content. Thousands of producers in marketing, education, tourism and universities have been inspired by shows like Netflix's "Bandersnatch" and "Bear Grylls: You vs Wild" and want to create content for VOD and game platforms.
The startup's founder Ru Howe recently presented at Cannes Marche Du Film alongside director Paul Raschid, a pioneer of interactive filmmaking who has produced his brand new feature length thriller "The Gallery'' using the software.
Ru said: "Film students are really excited by the interactive story games that Netflix have been pioneering, like 2019's Black Mirror: Bandersnatch and 2020's interactive Unbreakable Kimmy Schmidt."
Kate Dimbleby, co-founder of Stornaway.io who has been working with the students to get the most out of the software, said: "This is a new form for the new decade, and who better to explore it than this next generation of filmmakers. We have been hugely impressed by the imagination and innovation that UWE Bristol students have brought to these projects."
Dr Judith Aston, Associate Professor of Interactive and Immersive Media at UWE Bristol, contacted the company's founders when she was looking for new ways to work remotely with her first year students during lockdown. As founding director of i-Docs (the leading centre in Europe for research into evolving documentary practices), Dr Aston has been a pioneer in the field of film and creative technology for decades and was excited to introduce the platform to her students as part of her Experimental Filmmaking Module in the Spring.
She said: "It worked like a dream and we were all really impressed with what they came up with. I'm looking forward to seeing how we can progress this with the students. They'll have plenty of opportunities in their second year, and of course over the summer, to do some more experimenting and playing!"
Kate Moody, who directed the interactive short "Lost and Found", said: "The software was very simple and effective to use. Such a good way of storyboarding out what you want to do."
In the summer term, the startup founders continued by working with UWE Bristol's Animation Department as part of their final year 'Commercial Live Briefs'. It was an exciting opportunity for students, heading into a new post-pandemic world of film and media.
Course leader Rachel Mills said: "There is so much potential within interactive storytelling to use animation. I suspect many of the students will go on to work further in this area. Working on live briefs and with real discerning clients is an important part of the learning experience for students on the BA Animation course at UWE Bristol. I am looking forward to students exploring further interactive storytelling within Stornaway.io in the next academic year."
Kate Dimbleby said: "Interactive storytelling shouldn't be hard and miserable – it should be fun for creatives, and with Stornaway it is. We are excited to get this groundbreaking production tool into the hands of the next generation of filmmakers to see how it inspires them and even more excited to see it take off from our hometown."
For more information go to: www.stornaway.io.