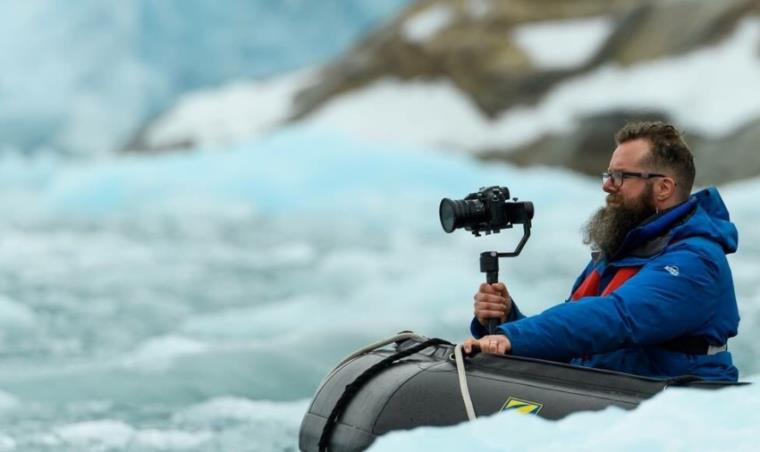 A PhD student from UWE Bristol has won a Research in Film Award for his powerful short film about the Arctic.
Doctoral student, Adam Laity, was presented with the award for Best Climate Emergency Film at a recent virtual ceremony held by the Arts and Humanities Research Council. He also receives a £5,000 prize fund for future filmmaking purposes.
The 29-minute film, titled A Short Film About Ice, combines stunning visuals and aerial footage of Arctic landscapes with poetry and literary extracts from authors such as Lord Byron and Allen Ginsberg.
Adam spent a month filming in the Arctic in 2017, travelling on a scientific sailing ship along with a small group of artists and scientists from across the world.
Touching on themes of cultural responsibility and eco-anxiety, the film depicts some striking moments, including a particularly awe-inspiring scene of glacial ice plunging into the sea in real time.
Adam said: ''The message of A Short Film About Ice is essentially that humans and nature are inter-connected in ways that are hard to understand, and that lack of understanding has caused the break-down of our global climate system. It is a really personal film and attempts to deal honestly with the effects of eco-anxiety and poor mental health I was suffering when I shot it.
''I'd like viewers to feel emotionally moved at first, and then I'd like them to be curious about the subject matter on an intellectual level. We need to start seeing ourselves, specifically in the images we create, as an integral part of the natural world, rather than in front of or separate to nature.''
A nine-minute excerpt of the film is available.
The film is the major research output for Adam's PhD at UWE Bristol exploring how the craft of cinematography can offer new ways of seeing the world, particularly at a time when images are so vital to how we communicate.
A Short Film About Ice has also received international acclaim after winning the Best Short Film award at Green Fest Belgrade, Serbia, earlier in the year.